North Central Arkansas Art Gallery is excited to announce their new exhibit will go up April 13 and be on exhibit thru mid July. Still showing is the current exhibit from Greers Ferry Westside High School art class, whose artwork may be viewed in the lobby of the conference center. The class will be making a field trip to the gallery Mon. April 20 and the NCA Art Gallery Coordinator, Charlotte Rierson will give them a tour of the new exhibit and share with the aspiring young artists her "Art Spirit Journey".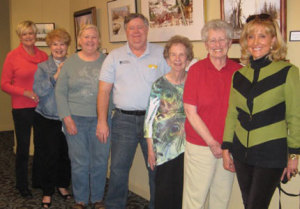 Shown in photo is the Art Gallery Team that helps make it possible for organizing and changing the artwork in the gallery. From L to R: Dianne Traylor-artist, Willa Wells-assistant gallery coordinator, Jan Cobb-artist, Lee Phillips-photographer & chairman of Photography, Lea Berry-President of the NCAFAE, Bonnie Hookman-artist & liaison for the NCA Artist League, and Charlotte Rierson-Artist & Art Gallery Coordinator. (not shown is Wilba Thompson-Director of the Fairfield Bay Conference Center.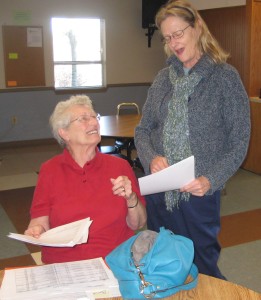 Bonnie Hookman signing up NCA Artist League member Gay Ryan.
These are volunteers and they do a terrific job bringing quality art professionally presented to our community, please thank them when you see them.
The NCA Art Gallery brings quality Fine Art to our community with good taste & family values. The exhibit features Sculpture, Glass, photography and paintings. The Art Gallery is open to all artists and is selected by a committee. All the artwork is available for purchase. The NCA Art Gallery is sponsored by the North Central Arkansas Foundation for the Arts & Education (NCAFAE) in collaboration with The City of Fairfield Bay. For more information or purchase of Artwork contact NCA Art Gallery Coordinator, Charlotte Rierson-501-680-2741, email [email protected] or Fairfield Bay Conference Center Directors, Wilba or Bob Thompson- , [email protected] 501- 884-4202, 110 Lost Creek Parkway, Fairfield Bay 72088.