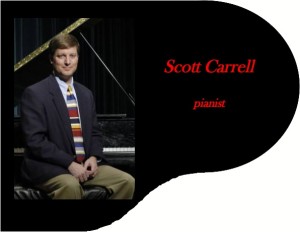 By combining artistic playing with informative comments, pianist Scott Carrell, will bring the world's greatest music to life at the upcoming concert at Our Towne Conference and Visitor Center in Fairfield Bay on Sunday, November 3, 2013 at 1 p.m. The Magic of the Piano features standard classical works as well as lesser-known masterpieces.
A native of Texas, Carrell has performed numerous recitals as soloist and as collaborator, including concerto appearance with the Austin Symphony Orchestra, the Pine Bluff Symphony Orchestra, the Southwestern University Orchestra, the Plainview Symphony Orchestra, the Fort Worth Civic Orchestra, the Little Rock Wind Symphony, and twice with the Harding University/Community Orchestra. An active chamber musician, he co-founded the Searcy Chamber Music Series and has performed on many of its concerts. He also performed in a small faculty ensemble in Florence, Italy.
Carrell's CD, "Ragtime Memories," consists of pieces in various ragtime styles – classic, novelty and player piano styles. Another CD, "Crossings" includes works by Chopin, Debussy, Haydn, Schulz-Evler and Carrell.
Currently teaching piano, music theory and composition at Harding University in Searcy, Carrell is in demand as a soloist, collaborative artist, teacher and adjudicator.