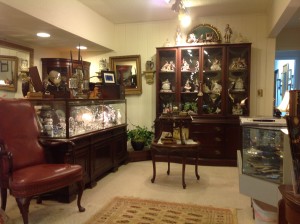 Are you looking for a unique gift that has a history and authenticity or are you looking to get an appraisal on a priceless family heirloom? The Circa Collection in Edgemont is the perfect choice.
Nancy Garot, M.Sc., owner and operator of The Circa Collection, has been dealing in antiquities and jewelry since 1976. Nancy is a Graduate Gemologist and a member of the International Society of Appraisers.
The Circa Collection has a stunning collection of fine gold and platinum jewelry, opulent gemstones, hand-chased antique silver and elegant objects d'art. When choosing a Circa Collection item, you can be assured of value, quality and beauty.
Nancy believes that jewelry is as distinctive as a signature, so she specializes in designing unique pieces, rescuing them from dark, locked boxes, bringing them into the light to be worn, savored and enjoyed.
One of her most popular items is a slide bracelet, where your pieces can be placed on custom designed bases. Each piece can be engraved with a special date or a loved one's initials. This gives you an opportunity to create a very special family heirloom.
Nancy said that beautiful objects appreciate over the years and she offers a full appraisal service. She feels there is a need for estate pieces to be appraised by someone who is familiar with their unique historical value and the market. Insurance companies recognize her appraisals as valid documents. This allows your private collection to be adequately insured.
Nancy's collection is very private and always changing. She hopes to share her collection with you very soon. For a preview of her collection, call 501.362.4426, The Circa Collection is located at 55 Stanfield Rd, in Edgemont on the left after you pass the Lakefront Restaurant and before Mystic Isle.