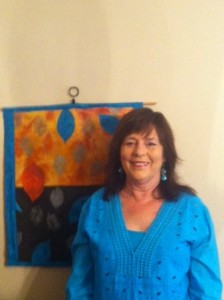 Alice Chambers has always loved art, music, theater, dance, and writing (basically anything creative). When Alice was a child, her mother made her dresses and Alice made things out of the scaps.
"My dolls would have interesting cloths, my paper dolls would have cloth clothes glued to paper," said Ms. Chambers.
She began with sewing and crafts; and then macramé, batik, embroidery, and other needlework. Writing has also been a big part of her life. She was a professional writer for many years.
A few years ago Alice went to an exhibit at the Decorative Arts Museum in Little Rock. The exhibit included beautiful, handmade, traditional quilts, modern quilts, art quilts and fabric arts.
"I love quilts, but I was truly attracted to the textile arts. I was inspired to try my hand at fabric arts," she said.
After the visit to the museum, she tried contacting fiber arts' guilds, textile arts' guilds, any organization that she could learn from, and who would help her find her true, artistic nature. There were only a couple of groups in Arkansas. She visited one of them in the Ft. Smith area and attended a workshop with fabric artist, Barbara Olsen.
"It was exciting and I met fabric artist Jane Hartfield, who became an inspiration to me. She encouraged me to find my inner artist by experimenting with what I liked," she said.
Next she took online classes in Sachiko stitching, and Shibori fabric dyeing; both Japanese forms of arts. She began dyeing fabrics, stitching and experimenting until she found her art.
"My fabric art includes all the things I love….all types of fabric, fibers, colorful dyes, embroidery, stamping, fabric paints, embellishments, and wonderful found objects," Alice said.
Last year, she submitted an art piece to the 'Reach Out and Read' event, and one to the 'Egg-zibition' for the Youth Home in Little Rock. Both were donated pieces for auction to help raise funds for each cause.
With the encouragement of her closest friends, and the book 'Fearless Creating' she now fearlessly creates fabric arts with great enthusiasm and courage.
She currently has an exhibit at the Fairfield Bay Library, 369 Dave Creek Parkway, Fairfield Bay. Her exhibit may be seen during library hours: 1 p.m. until 4 p.m. Monday, Tuesday, and Thursday; Wednesday and Friday from 9 a.m. until 4 p.m.; and 10 a.m. until 12:30 p.m. on Saturday.