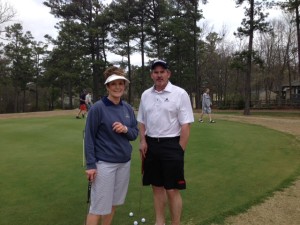 The 6th Annual Tee It Up for Literacy Golf Tournament was held Saturday, April 12, at Indian Hills Golf Course with 19 teams playing. Library Director, Alice Chambers, welcomed the golfers and introduced Global Foods, the tournament Sponsor. Gold Sponsors; Ed Cumings and Baptist Health of Heber Springs. These sponsors and the many other sponsors and teams who played in the tournament, were greatly appreciated.
The event is an annual fundraiser sponsored by the Friends of the Fairfield Bay Library. There were many volunteers who helped make this event a success.
"Thanks to our great sponsors and contributors, this was the most successful tournament we have ever had," said Ken Gates, Sponsor Coordinator.
The tournament winners were: Men's Team 1st place – Ken Meseke, Joe Mathis, Jack Keathley and Tippy Smith; 2nd place – Vic Manville, Bill Lynch, Gary Pack and Bruce Forsland; 3rd place – Jarrod Duke, Justin Johnson, Justin Cook and Larry Cook; and 4th place – Charlie Brown, Josh Glass and Mark Ijams.
The Mixed Team winners were: 1st place – David McBee, Tauna McBee, Jerry McCabe and Ron Phillips; 2nd place – Roy King, Susie King, Bill Kirkendoll and Nan Kirkendoll; 3rd place – Al Peifer, Georgie Peifer, Charlene Burge and Linda Reynolds; and 4th place – Vonda Welke, Toby Glyde, Pat Reeves and Bob Reeves.
The closest to the pin and closest to the line winners were Geary Leason, Brad Oxner, Rhonda Brown and Marcie Tehnnyson.
The top three prize winners were Patti Leitner, Samsung flat screen TV; David McBee, a set of Warrior hybrid woods; and Joshua Glass, a Warrior driver. There were a lot of raffle prize winners as well, all of which were appreciated. If you didn't pick up your prize, you may pick it up at the Fairfield Bay Library during library hours.