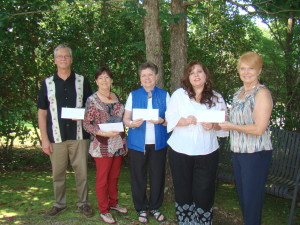 The Xi Gamma Kappa chapter of the Beta Sigma Phi International Sorority, held their Annual Style Show in April. The purpose of the show is to raise funds to be donated to four organizations in Fairfield Bay. During the May business meeting, the sorority sisters voted on these four organizations to recieve the generous donations.
Pictured left to right, Dan Feuer, Vice-President of the Animal Protection League, Alice Chambers Fairfield Bay Library Director, Mary Philips, Care Caps Director, Kim Walker, representing NCAF&E, and presenting the checks is Shirley Rudolph, President of XI Gamma Kappa.
Xi Gamma Kappa Season's End Meeting
The Xi Gamma Kappa sorority held their season's end business meeting at Rose Teer's home on May 20, 2015. Each sister brought a salad to be shared with the sorority. What a treat to be able to sample the each sister's favorite salad recipe. Eleven sisters were in attendance. Next season's officers were announced. Kathy Owens will take over Shirley Rudolph's position as President, Bonnie Raymond will continue as Vice-President, Linda Tangen will take over Anne Diaz's position as the Secretary, and Mary Ratcliff will take over Rose Teer's position of Treasurer. The exemplary dedication and leadership of the resigning officers were greatly appreciated by the sisters. The business meeting included the discussion of which charities would receive the money collected for this year's fashion show. It was decided to donate $325 each to: Care Caps, the local Animal Shelter, Fairfield Bay Library and the North Central Arkansas Foundation of Arts and Education (NCAFA&E). Several other items were discussed including the forming of committees for next season. The meeting ended with two beautiful ceremonies. Linda Tangen was pinned as a first year sister during the Jewels ceremony; and Nancy Mueller, Bonnie Raymond, Sheila Brown, and Ann Diaz were pinned for their years of service in the Beta Sigma Phi sorority during the Exemplar ceremony.