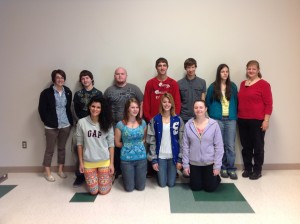 On Monday, Oct 21, students attended a beef cooking demonstration/tasting at Petit Jean Elec Community room.
Sixty students (Shirley, Clinton & SouthSide- Food & Nutrition classes) attended and were taught about beef (it's nutrition benefits to our diet, the various cuts and how to cook them.
Two recipes from the website:beefitswhatsfordinner.com were chosen to be cooked as demonstration to the students how a quick, delicious and nutritious beef entree can be prepared.
Local sponsors of the event were Van Buren County Farm Bureau and Van Buren County Cattlemen's Association.
Donette Stump, the Arkansas Beef Council Coordinator, was the guest speaker and entertaining cook. The Arkansas Beef Council supplied ingredients for the demonstration.
Regina Chaney, the UofA Cooperative Ext. Family & Consumer Science Agent for Van Buren County presented a program on "Where Does Our Food Come From." This program was enlightening to many of the students on the importance of Agriculture to our health and well being.
Without the abundant, safe and affordable food our American farmers supply, we would face food shortage issues, health issues and economic issues that many foreign countries are experiencing.