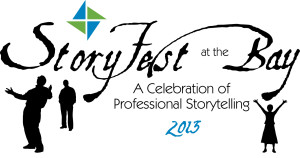 A Celebration of Professional Storytelling and the
Grand Re-Opening of Our Towne Conference & Visitor Center
Pull up a chair and get comfortable. This is one story you won't want to miss! Fairfield Bay is hosting the fourth annual "StoryFest at the Bay", Saturday, October 12 at Our Towne Conference and Visitor Center, and includes a special celebration of the newly renovated and reopened conference center beginning at 11:30 am.
Storytelling – Our most Powerful Communication
Fairfield Bay has celebrated the power of storytelling for several years in their annual festival. Whether for passing down history, culture, or entertainment – early man and even more recently the American Indians – were legendary storytellers. While StoryFest at the Bay is truly a unique entertainment venue, it's also culturally enlightening. "I forget my SmartPhone; I forget my list of things to do; I forget my problems. I become totally engrossed in the stories being told. It is a most enjoyable day that I look forward to each year. Plus, October is just a great time of the year to be in Fairfield Bay!" said Paul Wellenberger, GM for the Community Club.
"A good story with great timing just makes you smile," said Wellenberger. "We tell stories to share lessons, to laugh and to create lasting memories. It's an art which we cannot forget exists, and it should be passed on."
Each year, Fairfield Bay hosts some of the best national storytellers, from coast to coast. Some receiving National Storytelling Excellence Awards – as is the case with one of this year's tellers: Andy Offutt Irwin. And equally his match is the clever and engaging Pippa White. They share their talent in the Ozarks and spin their entertaining tales for all to enjoy. "We are doubly excited this year," explains Paul, "as we'll be inviting the public to not only marvel at the incredible stories and memorable performances (you must truly see to appreciate), but also enjoy the performances at our newly re-opened Conference and Visitor Center!"
Our Towne Conference and Visitor Center is celebrating a Grand Re-opening to much fanfare from around the state and StoryFest is a key element of the official festivities. Dignitaries and key public figures will attend to celebrate.
A Story to Tell
"The Conference and Visitor Center has its own story to tell," Wellenberger adds.  "From its original opening, and for decades following, the conference center was sought out as a destination venue for meetings and celebrations alike. Guests enjoyed more than just a good Conference Center but a beautiful community with resort-style amenities to add to the conference experience. Golf, boating, theatre, and more make the conference a real destination to remember."
It's rich past included notable visits from public figures such as Former President Bill Clinton. Fairfield Bay looks ahead now with a renovated center and to an opening celebration which will rival the center's impactful history. Today, Our Towne Conference and Visitor Center boasts even more reasons to plan a meeting or celebration in Fairfield Bay. It's a stunning conference, performing and visual arts center all in one.
"The center will once again be a vital link and gateway of introduction for many who have not yet discovered Fairfield Bay." Wellenberger added. "The community is excited for what this will mean for the economy of Fairfield Bay and our region."
At 19,600 square feet plus a one-of-a-kind beautifully appointed, large outdoor deck, Our Towne Conference and Visitor Center not only has banquet rooms, meeting space and a theater, but is also the North Central Arkansas fine arts gallery, featuring works of stain glass, paintings and sculpture, with much of the work available for purchase. Accommodations are within walking distance, and eight area restaurants. In Fairfield Bay, visitors can enjoy two 18-hole golf courses, miniature golf, private clubs, swimming pools, hiking, tennis, bowling and a full service marina with boat rentals.
Activities & Agenda: 9:30am & 1:30pm Storytelling Events
Family-focused and open to all ages, StoryFest and the Grand Re-Opening event promise to be fun and engaging for all. The morning kicks off at 8:30 am with coffee, pastries and a tour of Fairfield Bay's revitalized Our Towne Conference and Visitor Center. Morning storyteller sessions begin at 9:30 am and the afternoon storytelling sessions begin at 1:30 pm. The public is invited to the Grand Re-Opening Celebration at 11:30 am. A variety of arts and crafts vendors as well as food vendors from around the state will have items available throughout the day.
Tickets & More Information
Our Towne Conference and Visitor Center is located at 110 Lost Creek Parkway in Fairfield Bay. Tickets for StoryFest are only $10 in advance and $15 at the door. To purchase tickets or find out more information, visit www.FairfieldBayStartsToday.com or call 501-884-6500 where you can obtain a complete list of ticket outlets.
Our Towne Conference & Visitor Center
The public is invited to the Grand Re-Opening celebration to be held at the Center in Fairfield Bay on Saturday, October 12 at 11:30 am.
Opened in 1978, Fairfield Bay's Our Towne Conference and Visitor Center had an immediate economic impact on Fairfield Bay and Van Buren County. More importantly, it was a sustained impact. In 2008, the local economy was impacted with business closings and job losses and, like most business in a post 9/11 world, the center suffered and has remained closed since.
In 2012, the City of Fairfield Bay received a federal grant to renovate the Center. In true community form, Fairfield Bay citizens and businesses have come together since to raise further funds for interior restoration. This Fall, the community celebrates a rejuvenated Conference and Visitor center that will in turn help to further identify Fairfield Bay as the Ozark Mountain Lake and Resort community it is.
The new Center offers meeting rooms, a convention area and banquet facilities, which can hold 320 at round tables. In addition, a unique feature of the conference center, also available for rent, is the theater, which holds 125. The community's "Our Towne Productions" theater group had been performing for many years at local venues, but now the theatre has a new permanent home and adds another positive quality of life to Fairfield Bay.
Our Towne Conference and Visitor Center is also the designated art gallery of the North Central Arkansas Art League. Along with the permanent collection, 2 dimensional, sculpture and stained glasswork are on display for viewing and purchase.
###
About Fairfield Bay, Ozark Mountain Lake Resort & Community
Nestled amongst the Ozark Mountains and situated on the banks of the 40,000 acre lake, Fairfield Bay – Ozark Mountain Lake Resort & Community – is one of the region's most premier
destinations. Located 75 miles north of Little Rock, the community showcases stunning mountain scenery, outdoor activities, interest groups, and friendly people who create a safe environment for an outstanding value. The mild climate makes Fairfield Bay the ideal location for lasting impressions year round. For many families that have come to Fairfield Bay, their "Someday" has become "Today."  Fairfield Bay, a lake resort and community, where Someday Starts Today.
Friendly voice? 501-884-6010.   Explore a little more? www.FairfieldBayStartsToday.com