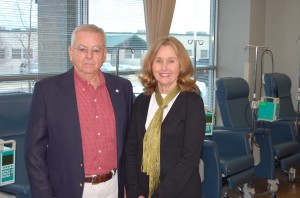 The success of the Ozark Health Foundation is directly related to the generosity of individuals and businesses in our community. Recently, Eric and Glenda Stagg of Clinton graciously invested $20,000 to improve healthcare in our community. The Staggs have been proud supporters of the Foundation since 2005, and we appreciate their commitment to our organization.
The Staggs shared with us that it was after touring the expanding areas of Ozark Health in June that they started considering making this large donation. Their investment came at the perfect time because the Foundation Board was in the process of reviewing several equipment requests that totaled just over $20,000. Because of the Stagg investment, the Foundation was able to purchase medical equipment for the Surgery Department, Laboratory , Emergency Room, and Nursing and Rehab Center including: an ERBE Cautery Unit and Zimmer Tourniquet System; five Chrome Mayo Stands and Economy Pneumatic Stool; and a Stretcher.
The true impact of the Stagg's donation is not the dollar amount of the investment or how many pieces of equipment are purchased, but it is the improvement of service that Ozark Health is able to provide. It is exciting to see how Ozark Health has been able to grow and expand over the last few years thanks to the generosity of the community. The Staggs invited us to share their investment with the community because it is their hope that others will join them in supporting Ozark Health. If you would like a tour of Ozark Health, or are interested in joining in our efforts to improve healthcare in our community, please give me a call at (501) 745-7004 ext. 106.