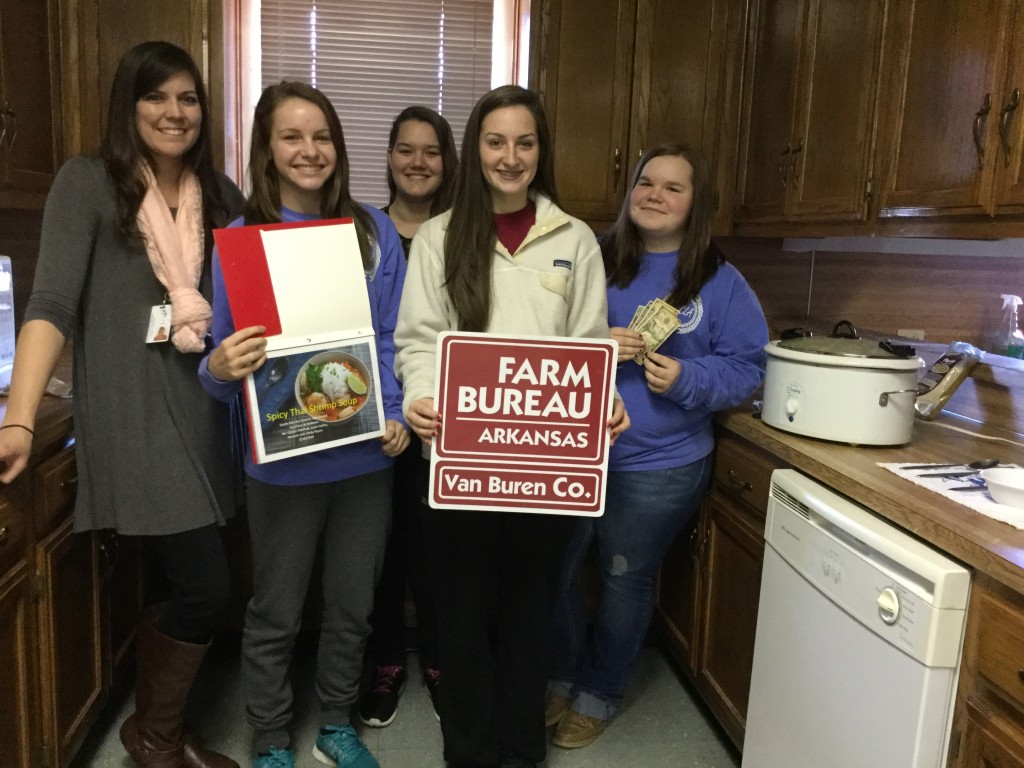 2016-South-Side-Soup-Contest-1st-place-Spicy-Thai-Shrimp-Soup-Emily-Payne-Hannah-Hall-Layla-Holley-Caitlyn-Walthal-Lori-Rooney-Teacher
Mrs. Lori Rooney's, South Side High School Nutrition Students accepted a challenge from the Van Buren County Farm Bureau Women's Committee to create an original, tasty and nutritious soup. The "Make it a Meal with Soup" contest was meant to be a fun learning experience with cash prizes for the three top winning teams. The contest, an original idea by committee member Becky Wood, was offered to all three school district nutrition classes in our county. Next month Clinton High Nutrition students will compete.
The winning soup was "Spicy Thai Shrimp Soup," which was created by Emily Payne, Hannah Hall, Layla Holley and Caitlyn Walthal. They won $20 for their entry. The second place entry ($15) , "Soup'er Duper Loaded Baked Potato Soup," was the idea of team members, Bryce Sawyer, Gemini Dennis, Alicia Raney, and Regan Henrickson. "Savory Sausage, Bacon and Kale Soup" placed third ($10) for Sara Maulden, Rachel Lawrence, Kelsey Clay, and Michael Linn. The fourth place team ,Katie Clark, Kylie Bonds, Russell Campbell and Hunter Hall competed with a traditional Vegetable Beef Soup.
All entries were extremely delicious, so the scoring was centered on the following: balance of flavors, healthy ingredients, suggested side dishes for added nutrition, following the MyPyramid nutrition guidelines, following contest guidelines and rules , grocery list with cost estimates, a creative menu portfolio, recipes well written and easy to follow. Judging these entries was not an easy task. We are sharing the winning entry . The other three soups were all mouth watering and worth sharing too.
"Spicy Thai Shrimp Soup"
1 lb. medium shrimp
1 onion 1 cup basmati rice
2 Tbsp. cilantro
1 red bell pepper
2 Tbsp. unsalted butter
2 cloves garlic
2 cans unsweetened coconut milk
1 Tbsp. ginger
2 Tbsp. red curry paste
Salt & pepper to taste
1 lime juiced
4 cups vegetable stock
2 tsp. Sriracha
Instructions:
1. In a large saucepan of 1 ½ cups of water, cook rice according to package instructions-set aside.
2. Melt butter in a large stockpot or Dutch oven over medium heat. Add shrimp, salt & pepper & Sriracha to taste. Cook, stirring occasionally, until pink, about 2-3 minutes; set aside.
3. Add garlic, onion & bell pepper to the stockpot. Cook, stirring occasionally, until tender, about 3-4 minutes. Stir in ginger until fragrant, about 1 minute.
4. Whisk in curry paste until well combined, about 1 minute. Gradually whisk in coconut milk and vegetable stock, and cook, whisking consistently, until incorporated, about 1-2 minutes.
5. Bring to a boil; reduce heat and simmer until slightly thickened, about 8-10 minutes.
6. Stir in shrimp, lime juice and cilantro. Top with rice.