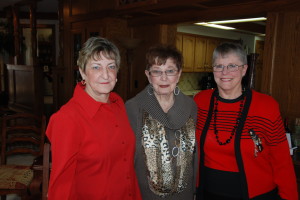 At the February meeting of Zeta Sigma sorority, Patsy Weidanz discussed Fairfield Bay recycling program.  Left to right: Patsy Weidanz, presenter, with hostesses Mary Baker and Carol Palmer.
Zeta Sigma February News
The monthly business meeting of Zeta Sigma was held February 14 at the home of Mary Baker and co-hosted by Carol Palmer. After a brief business meeting led by Marie Niec, chapter President, Mary Baker introduced program speaker Patsy Weidanz. Patsy Weidanz presented an informative program on Recycling in Fairfield Bay. For the year 2012, Hippe's Recycle Center recycled 246,740 pounds of material. Afterwards, the group enjoyed delicious Valentine's Day treats.
News From Eta Beta Sorority
The sisters of Eta Beta Sorority would like to thank each one of you who have supported our annual DECK THE WALLS SOUP LUNCH & WREATH RAFFLE for the past 8 years. Your support has helped us to aid the Shirley and West Side school food pantries, the Log Cabin Museum, and others. We are looking forward to No. 9 in November 2013. Again, thank you for your support. With out you, it would not be possible.