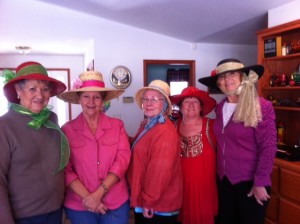 XI Gamma Kappa "Gone With The Wind"
Beta Sigma Phi XI Gamma Kappa met on Wednesday, November 6, 2013 at Betsy Slaughter's home.  Karen Gehl was Co-Hostess and baked delicious fall goodies.  Mayor Paul Wellenberger presented the program "How Well Do you Know your City?"  On Wednesday, November 20, 2013, our social was held at the home of Bonnie Raymond.  We all watched the "Gone with the Wind" movie.  We all decorated hats to look like hats that were worn by Scarlett O'Hara in the movie.  Shirley Rudolph was the winner of the "best hat" contest.  We enjoyed popcorn and appetizers while watching the four hour movie.  "Gone with the Wind" was the winner of 10 Academy Awards including 1939 "Best Picture."  Clark Gable and Vivien Leigh played the main characters in the production of Margaret Mitchell's Pulitzer Prize-winning Novel.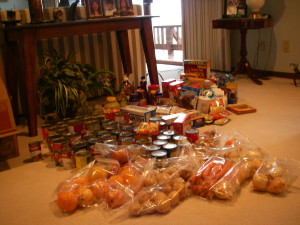 Non-Perishables Collected For Families In Need
The November meeting of Zeta Sigma sorority was held at the home of Deena McAllister and co-hosted by Sandra Olson. Members brought non-perishables to the November meeting. Tauna McBee and the service committee took the donations to the Shirley School for distribution to families in need. Guest speaker, Sherry Guess, presented an informative program about the many and varied offerings at the Education Center.