Xi Gamma Christmas Luncheon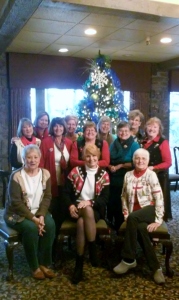 The Xi Gamma Kappa sorority held their luncheon Christmas party on December 3rd at the Indian Hills Country Club. Bonnie Raymond hosted the party with Karen Gehl and Ann Diaz as co-hosts. Karen made beautiful angel pins for each sister and the table decorations were made by Rose and Bonnie. The 2014 secret sisters were revealed as gifts were exchanged. New secret sisters were drawn for 2015. Lunch and beverages were enjoyed by all.
The couple's Christmas cocktail party was held at Nancy Mueller's home on December 17th. Nancy provided the ham and the other sisters brought appetizers and beverages. What a fun evening it was, especially with the unexpected bonus happenings. An uninvited bird flew through the front door wanting to join the party. Much merriment was made as the men ran around the room with arms waving and nets flying. Finally, after resting in the Christmas tree for a period of time, the party crasher made it's exit with a swipe of Jim Rudolph's baseball cap sending it back out the door. In addition, Ben Heimann lead the Christmas carols with his wonderful voice. It was another memorable evening which will stay in the hearts of our sisters.
Zeta Sigma Celebrates Christmas At The Rock
A special thanks to Clint, Roxie and staff for a beautiful lunch enjoyed by all. After a brief meeting led by President Sharon Luxon. Christmas goods were collected for the sorority's adopted family, Tauna McBee chairperson, and her committe will deliver the food before Christmas. The beautiful decorations which enhanced everyone's holiday spirit were provided by Bonnie Lang, Social Chairperson and her committee,The fun grab bag gift exchange brought lots of laughter to the group. A special thanks to all who participated. The next meeting will be held on January 8, Charlotte Cumings host, Delores Frosaker, co-host.