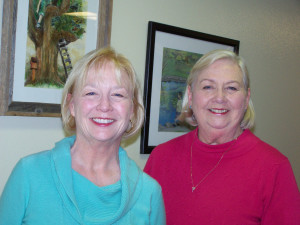 Jan and Julie are two of the thirty six artists exhibiting their artwork in the new NCA Art Gallery Exhibit. Sisters, Jan Wilson Cobb and Julie Wilson Caswell were born in Memphis, Tennessee and lived in the area most of their lives until retiring to the Greers Ferry Lake area in 2003. They have always been very close sisters. Growing up, their parents were supportive and encouraging to all of their creative activities – from putting on plays in the backyard to creating desserts after dinner. Their mother took classes at the Memphis Academy of Art and was a talented artist. They had a great aunt on their Dad's side of the family who was well- known local artist, Maude Wingo.
A number of her oil paintings are still in their family. So, art was always part of their growing up lives. They both are active members of the North Central Arkansas Artist League. Being able to paint, display, and occasionally sell their art in this area has been a rewarding part of retirement. Jan & Julie are great supporters of each other's work, and are able to critique each other's paintings in positive ways. Sharing paints, paper, brushers, and easels has been beneficial and fun. They feel that it is such a blessing to be "sisters."
Julie Caswell is a Memphian from birth and graduated from the University of Memphis with a Bachelor of Fine Arts and a Master of Science. She taught Art K – 12 and finished her career as a K – 12 Guidance Counselor in various Memphis area schools. Art has always been a big part of Julie's life. She has been a member of several art clubs and has enjoyed passing on her knowledge. Julie finds inspiration all around and sees beauty in everyday shapes, objects, and people. Now she spends time with her husband, David, their family of five kids and eight grandkids, and of course their beloved pet, Flurry.
Jan Cobb and her husband, Tom, live in Edgemont, Arkansas. Tom and Jan have two children and four grandchildren. Jan, born in Memphis, attended White Station High School, Abilene Christian College and Memphis State University. Later in life she received an Associate degree in Micro Computer Technology and became a private pilot. Jan retired as a Vice President of Computer Systems in the Mortgage Lending Division of First Tennessee Bank. Along with work and being a Mom, art was always a part of her life. At a young age – "paint by number" and plastic model birds were followed by portraits of their black and white cat, Cisco. Oil, watercolor and toile painting classes followed, with a one year old son tagging along. It wasn't until she retired and moved to Greers Ferry Lake that she devoted the time to enjoy and realize her goal of being called "an Artist."
The new NCA Art Gallery's thirty six artists exhibiting their artwork are the following Painters: Sandra Marson, Cathy Wester, Susanne Waggoner, Joyce Hartmann, Charlotte Rierson, Doris Sexton, Dorothy Hendrickson, Rebecca Loftis, , Joyce Hubbard, Bonnie Hookman, Yun Kim, Sue Pico, Jan Cobb, Julie Caswell, Fran Pattillo, Ellen Kelly, Judith Beal, Robbie Miller, Alison Shreck, Dianne Traylor, Lea Berry, Pauline Sears, Jeanne Homuth, Gay Ryan, Kathleen Hadley; Photography-Lee Phillips, Elizabeth Beech, Brandi Vandygriff, Jennifer Kuipers, Robert Gaut, Jim Beach, Makala Strang; 3 Dimensional- Linda Pledger, Collene Halldorsen, Barbara Cornett, Anne Mitchell, Karen Gehl. The NCA Art Gallery/Fairfield Bay Conference Center is located at 110 Lost Creek Parkway, Fairfield Bay. The hours are Mon. –Fri. 9 a.m.-4 p.m. and also open for special occasions. The viewing is free to the public. For more information contact Art Gallery Coordinator, Charlotte Rierson, [email protected], 501-84-6100 or the Conference Center at 501.884.4202.