by Jim & Phyllis Wilkins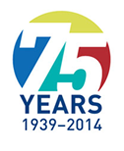 Leader Dogs for the Blind is currently celebrating its silver jubilee, since first opening its doors in 1939 and continuing to provide quality service in 2014. "Our mission is empowering people who are blind or visually impaired with lifelong skills for independent travel through quality Leader Dogs, highly effective client instruction and innovative services. Since 1939, Leader Dog for the Blind has operated one of the world's most respected and innovative guide dog programs. The free, 26 day, residential training program welcomes clients who are legally blind, at least 16 years old, have good orientation and mobility skills, and are able to care for their dog." In April of this year, Leader Dog for the Blind announced a campaign to raise up to $35,000, which would then be matched by a generous friend of the program. Recently, the organization was able to announce that through supporters the goal had been reached. Whether the donations come from individuals, or community service groups such as Lions Clubs the help give the non-profit organizations continue to enhance the lives of those who are blind or visually impaired. If you would like to know more about Leader Dogs for the Blind please visit – www.leaderdog.org.
The Fairfield Bay Lions Club meets the 2nd and 4th Thursday of each month with dinner being served at 5:30 p.m. Reservations requested by the Monday prior to the meeting – $7.50 per person by contacting Lion Jeanie Hooper @ 884-3202. All meetings are open to the public and visiting Lions are most welcome. All-U-Can-Eat Pancake and Biscuits with Sausage Gravy breakfasts are held each Tuesday & Saturday mornings from 8 – 10 a.m. For information regarding joining the Fairfield Bay Lions Club please contact Lion President Ed Roberts @ 884-3679.