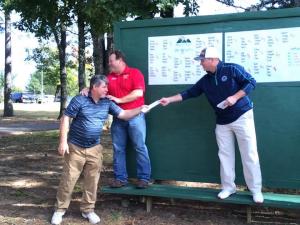 This was our 5th Annual Shop with a Cop Golf Tournament, held Sat, Oct 4 at Mountain Ranch Golf Course. The tournament raised $6,382.92 for the children of Van Buren County.
A huge thank you goes out to all the volunteers, teams and sponsors: Modern Woodman, SWN, First Service Bank, Justin's Towing & Recovery, PEH Supplies, Payton Dodge, Ozark Health Home Care, Arkansas Telephone, Clinton Funeral Services, Johnny's Auto, United Transmission, Clinton Drug, Steven Stone, 1st Security Bank, Carter's Hardware, Angie Hutchins for County Clerk, Triple D Tire, Leal Oral & Maxillofacial and Sheriff Scott Bradley.
Last year, 40 children in the county were taken shopping and we are doing it again this year. We are still a little short of our goal and will be planning a fish fry in November (more details to come about that).
Shop With A Cop is a program to help children in our community to have a wonderful Christmas, they may not have the opportunity because of family circumstances. It's an opportunity for our local law enforcement to interact with children that may have had a rough time and build relationships.