Scott Bradley
VBC Sheriff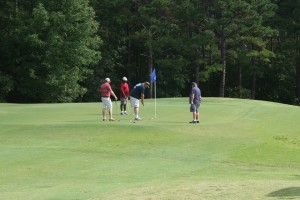 The 6th Annual "Shop with a Cop Golf Tournament" was held on September 19 and it was a Huge Success. We partnered with Mountain Ranch Golf Club and Modern Woodman to make this tournament possible. Of course it could not have been a success without all our Teams, Sponsors and Volunteers. This was the first year we booked the whole course, 36 teams, making a grand total of $14,135.08, so we feel beyond blessed.
Thank you Sponsors: SWN, Pistol's Gun & Pawn, Greg Hines, Justin's Towing, Correct Solutions, 1st Service Bank, Lou Dewberry, Cash Saver, Simmons Bank, Arkansas Sheriff's Association, Wal-Mart, PEH Supply, Allcare Pharmacy, Steven Stone, Ken Kendoll, Clinton Drug, Davis Cash Lumber, Burgess & Daughters Pawn, Clinton Funeral Services, Johnny's Auto, Ozark Construction, Carter's Hardware, Ozark Health Home Care, United Transmission, Etienne Beaullieu, Randall Tumbleson, Ben E Keith Co, United Country & AR Mountain Realty, 1st Security Bank, Bank of Ozarks, Scarberry Agency, Sonic, Subway, McDonalds, Taco Bell, KFC, KFFB Radio, Izzy's Fashion, latitude Bistro, Fairfield Bay Hart Center, Indian Hills Country Club, Tharp's Barber Shop, Dock of the Bay, Andrews Brothers Liquor, Leal Oral & Maxillofacial, Little Rock Family Dental, Senator Greg Standridge, Jim Stafford Theater, Titanic Museum, Micheal & Marcella Tennyson, Bob Barker Co, Regions Bank, Arkansas Telephone Co, Chad J Brown Attorney, Nestlenut Ins, Blake Newton, Vinson Appraisal, Bob Leal and We're Stitchin & Printin
Our "Shop with a Cop" program is a program to help children in our community have a wonderful Christmas they may not have the opportunity to have due to family circumstances. It's an opportunity for our local Law Enforcement to interact with children that may have had a rough time and to build relationships. We work with local schools, DHS, and deputies for recommendations. Because we work with DHS/Angel Tree you can only participate in one program. But if you know of a child in need you may contact the Sheriff's office 745-3838.