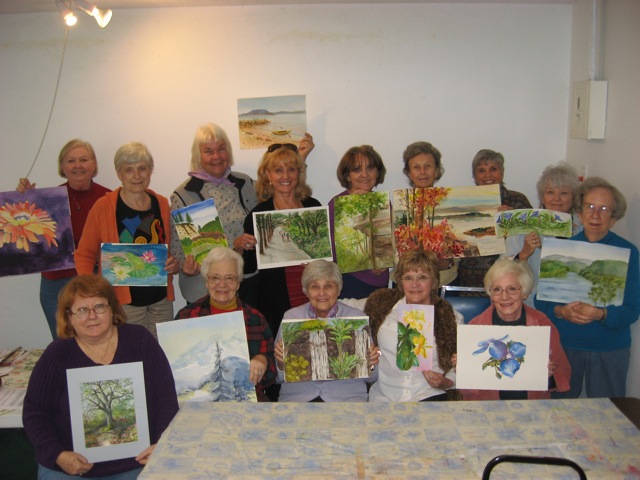 Internationally known artist Sheila Parsons was featured at a watercolor workshop sponsored by the North Central Arkansas Artist League March 7 and 8.
Local artists attending the Fairfield Bay workshop were President Connie Hood, Alecs Long, Jeanne Homuth, Kathleen Hadley, Dorothy Hendrickson, Charlotte Rierson, Bettye Cooper, Lea Berry, Ruby Krimm, all of Fairfield Bay; Joan Bland and Diana Foote, Holly Mt.; Jan Cobb and Carolyn Goettsch, Edgemont; Judy Shumann, Diamond Bluff; and Joyce Hartmann, Choctaw.
During the workshop Parsons painted two watercolor landscapes, demonstrating watercolor techniques and principles of composition. She also critiqued and helped individual artists improve their paintings.
Parsons' paintings are often done on location – sitting down on the spot and pulling out her gear. She feels this method of working gives a freshness and spontaneity to her impressionistic and loose watercolors. Her subjects include street scenes, farm scenes, florals, still lifes and rural landscapes. She is best known for her loose and colorful style of work.
To see her work visit the North Central Arkansas Gallery at Indian Hills Country Club in Fairfield Bay before April 16, or go online at www.sparsons.com and click on the gallery. The paintings at the Country Club include original watercolors, acrylics on canvas and Giclee prints never before shown in Fairfield Bay.
Parsons was chosen as Outstanding Individual Artist by the Arkansas Arts Council in 1996 and was honored in 2011 with the second Faulkner County Lifetime Achievement in the Arts Award by the Faulkner County Library system. Her work is in collections all across the United States, Mexico and Europe. She was featured in American Artist with an 8-page article about her and her work. A signature member of Mid Southern Watercolorist, she lives in Conway, AR with her husband, Richard Talley, three dogs and a cat. Her gallery and studio there are open by appointment.
She is also owner of ART-VENTURES – a travel-and-paint workshop company. She has led groups to Ireland, England, Spain, Mexico, Canada, France, Italy, Bali and more. Presently, she still has openings for a trip to Guatemala this summer and one in the fall to the Loire Valley of France.