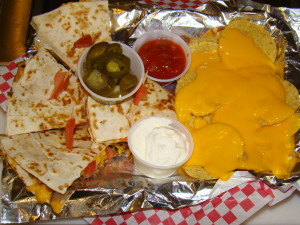 Steak Quesadilla w/Nacho Chips, Salsa and Sour Cream
Ingredients
Flour or tomato/basil tortilla stuffed with thin sliced steak or chicken, grilled onions and peppers, and cheddar cheese. Topped with diced tomatoes and served with a small side of nachos, sour cream and salsa! mui bien!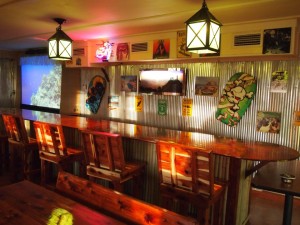 Jim Hendrickson, the owner and operator of Sharky's Sunset Grill on Hwy 330 has always had a love of surfing. Growing up in Southern California, he would get up early, put his board on his scooter and head to the beach, catch some waves, head to school and then back to the beach. That was his life and he sure enjoyed every minute of it.
Jim lives here in Fairfield Bay and decided that a really good burger joint was needed and with his love of surfing, Sharky's was born. When you walk in you'll be amazed at the new décor, like the Tiki Man, created by Jim's Brother Chris, who works for Universal Studios in Orlando, Fl. You'll also be treated to some delicious menu items and soft serve ice cream.
Jim has future plans for his place and wants it to kid friendly, so watch for some changes coming in the future. Surf's Up!