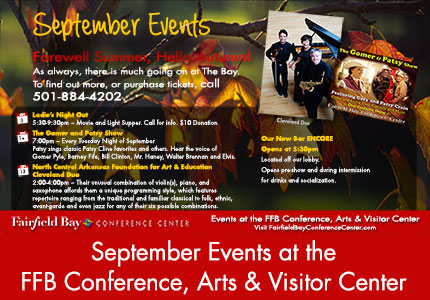 Monday Morning Visitor's Welcome
We invite all of our visitors to join us each Monday at 9 a.m. for free coffee and donuts along with milk for the kids. Lots of door prizes and fun information on all our activities for the week.
The Gomer and Patsy Show
Each Tuesday Through September
Tickets-Adults $15 – Children 6-12 $10 – Children Under 6 Free
Show Time 7 p.m.
We have been having a great time with many of our Fairfield Bay Visitors over the last three weeks at the Gomer and Patsy Show. Join us in the Encore Bistro open at 5:30 p.m. for a refreshing beverage before the show or just a fun social time with friends. This is a wonderful time to show your support for the community and show our visitors the spirit of Fairfield Bay.
Ready for an Encore?
While at the Conference Center, enjoy an "ENCORE" celebration at our Newly opened bar just located off the lobby–opens pre-show and during intermission for drinks and socialization. Join us in the Encore Bistro for a light dinner, our Love Saga Movie, and dessert following the movie. ENCORE opens at 5:30 p.m.
Ladies Night Out
Thursday, September 3
Call for information about the movie and menu. Lots for fun and a great time to meet old friend and make new ones.
North Central Arkansas Foundation
for Art & Education
Cleveland Duo
Sunday, September 13 ~ 2 – 4 p.m.
Their unusual combination of violin(s), piano, and saxophone affords them a unique programming style, which features repertoire ranging from the traditional and familiar classical to folk, ethnic, avant-garde and even jazz for any of their six possible combinations.
North Central Arkansas Art Gallery North Central Arkansas (NCA) Art Gallery has an on-going exhibit of paintings, sculpture, pottery, stain & fused glass, and photography. All artwork is for sale.
MARK YOUR CALENDARS:
OKTOBERFEST/STORYFEST
October 9-10
Mark your calendar now for our Second Annual OktoberFest/StoryFest at the Conference Center! Fairfield Bay is celebrating fall with two festivals in one on Oct. 9 and 10: the Second Annual OktoberFest and StoryFest, which is a celebration of professional story telling.
October 9th:
Free and open to the public, OktoberFest begins at 11 a.m. on Oct. 9 ending at 10 p.m.
Local arts and crafts will be displayed for show and sale until 6 p.m.. German food, music and dance will round out the day's events.
October 10th
The festival opens at 9 a.m. Thunder in the Bay, the motorcycle rally sponsored by the Fairfield Bay Chamber of Commerce, rolls from 9 a.m. until 4 p.m., and a Volkswagen "Show and Shine" is open until 5 p.m.. The festival concludes with a true OktoberFest celebration and dance, with an Oom-Pah-Pah band playing from 7 – 10 p.m. Visit www.FairfieldBayStartsToday.com/OktoberFest
For Lodging: www.FairfieldBayConferenceCenter.com, or call 501-884-4202.