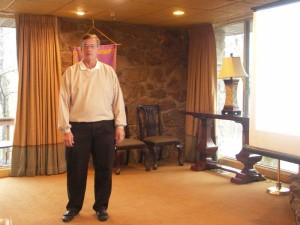 This week, we had the pleasure to listen to our Mayor, Paul Wellenberger. It is easy to listen to our Mayor, as Paul has the ability to speak in a clear and precise language to tell us what is new and important in our community. Under our mayor's leadership, Fairfield Bay has made good progress. Projects get done efficiently, with benefit for all of us. Paul's engaging personality certainly favors success.
Paul Wellenberger is a graduate of the University of Arkansas, he had a successful career in defense electronics with Texas Instruments (TI). When Texas Instruments sold its defense business to Raytheon and Raytheon decided to centralize its missile manufacturing to Tuscon, Az., Paul and Cindy decided to retire early and move to Fairfield Bay. Most of Paul's management style was influenced by his training at TI, especially the power of teaming. A great example of that is the Conference Center and how it turned out. The finished product is so much better than anyone could have hoped for, had it simply been turned over to a contractor with a set of plans. A shared direction and a sense of community means together we can do more and go further.
Paul updated us on activities at the Conference Center, medical clinic possibilities, West Cliff Drive crossing at Lynn Creek construction plans and disc golf; the mayor then praised the Rotary Club for the important contribution Rotary makes to Fairfield Bay. Especially noteworthy is the outreach outside of our City limits, to the surrounding communities, via the Scholarship program, the Andy and Elmer Apple Dumpling Adventures (where apple trees are planted on school grounds), sponsorship of the Tommy Terrific Magic show, providing every second grader with a dictionary and every third grader with a Thesaurus. Additionally, not known by many, are the Rotary Clubs, donations to areas that are impacted by natural disasters. These donations are made directly to the Rotary Clubs in impacted areas to avoid any administrative fees. The session was closed with a question/answer session.