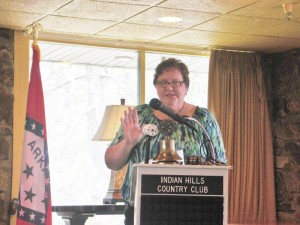 Kristy Edwards, a Fairfield Bay resident, reported to us her volunteer work with CASA (Court Appointed Special Advocate) a sworn officer of the court for the 21st District, including Searcy, Van Buren and Faulkner Counties.
A CASA Advocate becomes the "eyes and ears" for foster children who were taken out of the home due to drug activity, environmental, physical, medical, sexual abuse, child endangerment and so forth.
CASA has the "best interest of the children."
Advocates write a report about the children, that the child's needs are being met (ex. medically, educationally) and are in counseling. CASA also contacts and interacts with the parents.
A CASA advocate remains a stable person in the child's life until they are returned to their parents, or permanently placed in a home or adopted.
The Mission of the volunteers is to provide hope, healing and a voice of justice for abused and neglected children in our community.
More information can be obtained from Kristi Edwards. Email: [email protected] call her cell 501.253.5520.
It is always heart-breaking to see children be the victims of parent's poor relationships and bad decisions. Poverty is often a root of it, and more often the result of lack of skills or education; teenage years wasted without foresight or ambitions.
Young people who find themselves in that predicament don't understand that their children become the next generation who find it hard to succeed.