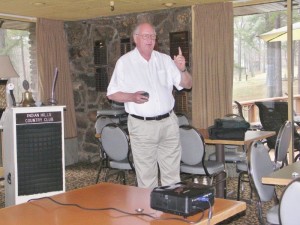 Judge Roger Hooper gave us a progress report of Van Buren County road projects.
To summarize: Here is data that might interest all of us:
Over the last 4 years the county received from FEMA alone $732,000.
Expenditures amounted to $1,110,000 during that period. This took care of 210 miles of road or $5280 per mile of road.
The goals for roads:
1.Continue to take care of road problems as they occur;
2.Continue upgrade of gravel roads with 4" of gravel
3.Continue to work with gas companies to repair any damages
4.Increase the miles of chip and seal
5.Keep equipment up-graded
Looking ahead into the future :
Highway 65 we will have: 4 lanes from Red River to Archy Fork, from Southside Baptist through Bee Branch, from Bee Branch to Ozark Health Hospital and from Clinton to Dennard at Highway 254.
Ozark Health will construct a new medical office building
Van Buren County will begin work in 2014 on A New 11,000 square foot LIBRARY
And Natural gas (SWN) continues expansion, adding 156 new wells.
Other changes in the county:
WE now have a a restored Fairfield Bay Conference Center, Remodeled cash saver store formerly Thriftway,a Kubota dealership, Two new restaurants: Junes & Dirty Farmers Market , a new fabric store and Clinton downtown has a new renovation initiative.
It is nice to know Judge Hooper takes really good care of our road system.
I had only one comment: When I drive in our county I have taken photos of an empty stretch of road in front of me; then sent these pictures labeled "rush-hour in Arkansas" to friends in California. Yes, our Arkansas roads are a pleasure to drive on.