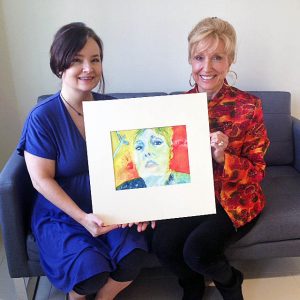 Charlotte's painting that was chosen to tour with the Arkansas Arts Council's Small Works on Paper is one of three paintings of a Dream Series, titled "Panic (Fear)." Charlotte said she has recurring dreams that she is lost or running from something which is frightening to her. She painted this of herself with passion using s loose evocative watercolor brushwork techniques. She wanted the viewers to feel the emotion of her fear and panic. This is the fourth time for her to get accepted into the Small Works on Paper. One year she won the Purchase Award titled "Celebration" that is in their permanent collection. Charlotte said "It was such an honor to get accepted into this exhibit. I am competing with outstanding artist in all mediums on paper.
We never know what paintings will be chosen. As most of us know Art is in the eyes of the beholder." The 2017 juror was David Houston, executive director of The Bo Bartlett Center at Columbus State University's College of the Arts in Columbus, Georgia. Houston is also an art historian, lecturer, and writer about art and architecture. Houston was formerly director of curatorial at Crystal Bridges Museum of American Art in Bentonville and co-director and chief curator at the Ogden Museum of Southern Art in New Orleans.
2016 was an exciting and rewarding year for Charlotte. She was juried into the Fall Arkansas League of Artists Exhibit and won first prize in Abstract category with the Conway League of Artists. Her paintings were chosen to be in the Arkansas National Museum of Women for the Arts website. She had a One Woman Exhibit at the First Security Bank in Clinton and paintings exhibited at the Arkansas Repertory Theatre's production "Bridges of Madison County". Charlotte has won numerous art awards and has artwork in permanent and private collections. She is a signature artist and past president of the Mid Southern Watercolorists as well as signature status with the Arkansas League of Artists. In the early 90's she established the North Central (NCA) Art Gallery. She is the Coordinator of the Gallery and a contributing artist. Presently Charlotte is president of the North Central Arkansas League of Artists. One of her greatest honors was receiving the Arkansas Governor's Award in Community Art Development sponsored by the Arkansas Arts Council. Charlotte conveys through her artwork that she is a mood setter and story teller. She resides here in scenic Fairfield Bay overlooking Greers Ferry Lake with husband Don & special dog Bella.