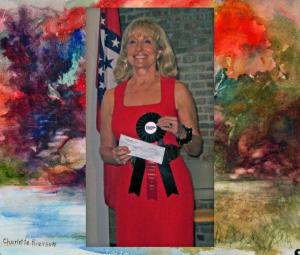 Local Fairfield Bay Artist, Charlotte Rierson was an award winner in the 2014 Annual Arkansas League of Artist Art Show. She won 2nd place in Landscape Category. Her two paintings were juried and judged by Crystal Bridges Curator, Manuela Well-Off-Man. The exhibit is located at the Butler Fine Art Building, President Clinton Avenue in Little Rock. The exhibit runs thru Dec. 27.
Charlotte also had a painting juried into the MSW Other Exhibition Exhibit juried by Baum Art Gallery Director, Ms. Barclay McConnell. The exhibit is located at Episcopal Church, Little Rock, at the corner of Scott and Capitol. Exhibit goes thru Dec.
Charlotte's paintings can also be seen at the Repertory Theatre's production of Memphis and the NCA Art Gallery/Conference Center where she is also the Art Gallery Coordinator. Go to her web site for more: www.artspiritunlimited.