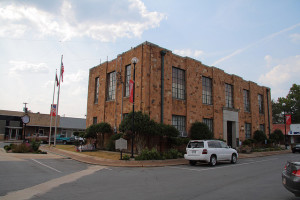 "Stake Your Claim in Clinton " takes center stage, 6 p.m. Tuesday, January 14, 2014 with the clearly focused agenda of revitalizing the historic business district of the Van Buren County seat.
An outgrowth of the "We Love Clinton VBC" organizing meeting, held November 18 at the Petit Jean Electric Cooperative community room brought together over 40 leaders representing a wide variety of elected officials, civic organizations, businesses and public-sector agencies in the Breakthrough Solutions community and economic development initiative.
Facilitated by Mark Peterson, Professor of Community and Economic Development with the U of Arkansas Cooperative Extension Service, the January 14 "Stake Your Claim In Clinton" gathering promises to deliver a step-by-step strategy for converting good ideas to great accomplishments.
Billed as a 'voice of the people meet & greet,' doors open to the public at 5:15 p.m. with a light supper followed at 6 p.m. by a series of informational presentations and interactive activities aimed to sift through the data gathered over the last 5 years, glean the 'gold nuggets,' add new fresh ideas and implement team-work to bring the community's vision for itself to life.
Tremendous support for the initiative has been pledged by County Judge Roger Hooper and Clinton Mayor, Roger Rorie, in harmony with the Clinton Area Chamber of Commerce, Clinton Business & Revitalization Association (CBRA), VBC-CES Homemakers and Master Gardeners, Clinton Area Revitalization & Excellence (CARE), VBC Emergency Management, the VBC Public Library and a long list of business professionals, civic boosters and organizational representatives.
Central to the January 14 strategy, four Action Teams will 'divide and conquer' the wish-list for Clinton's future with an eye to enhancing visual appeal, attracting new businesses and drawing new customers to Van Buren County's Courthouse Square and Clinton's Main Street.
A special highlight of the program features students from Clinton High School EAST-lab presenting their vision for Clinton 's future.
"This event is a townhall workshop. Over the last five years our community has amassed ideas and suggestions from public meetings and university studies. This is the meeting that pulls all those ideas together as a detailed action plan," City of Clinton Councilwoman, Wendy Russ , who serves as Chair of the overall project, summarized.
Doors to the Petit Jean Electric Community Room open at 5:15 p.m. on Tuesday, January 14, with a light supper. The program, which promises to keep folks engaged with quick actions and productive results, begins at 6 p.m. and is open to all who wish to get involved. RSVPs are not required, but are appreciated.
For more information, visit http://www.welovevbc.com/ or contact any Action Team: Kitty Murdock, Beautification & Placemaking 501-253-0021, Sean Sikes, Entrepreneurship & Small Business Development 501-253-6969, Jackie Sikes , Communications & Marketing 501-253-4716, Shawna Weiss, Hospitality 501-253-8008.