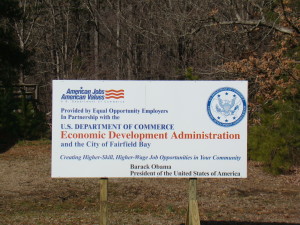 The Fairfield Bay City Council is in the process of overseeing the renovation of that eyesore all Bay residents know as the Conference Center. Since the center was donated to the city in 2011, the city council has debated on just what to do with this gift. Obviously, much work is needed to restore this landmark to its former glory days. Anyone who has lived in the Bay in the not so distant past has great stories and memories to share involving the center and all of its glorious history.
With the federal grant the city has received, we are able to begin the restoration of this building. The mayor has appointed various committees that have begun working on the many aspects necessary to make this renovation a reality. The vision decided upon includes welcoming visitors, hosting small conferences, displaying local artwork, and a performing arts auditorium which will be a permanent home for the Little Theater group, "Our Towne Productions." The center will be available for other community events. Plans are in the works to add sound, lighting and projection in order to show movies in a theater setting.
All of these amenities will involve a great deal of planning and money. The mayor and city council are currently receiving bids on the roofing, HVAC, siding, landscaping, etc. A grand opening for the center is scheduled for Saturday, October 12, 2013 to coincide with Fallfest and the storytelling event that will be held there on that day.
One of the important tasks that the council must tackle is the name of this new venue. New signage will be an important part of directing visitors and residents to our new facility. Before this can happen, we need to decide on a new name that is both catchy and will convey what this new facility will represent. If any citizen has a name suggestion, we want your input. Please feel free to call the mayor's office at 884-6500 with your suggestions.