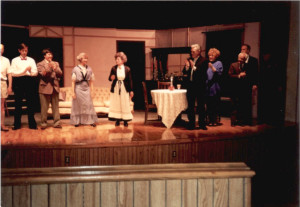 I was a member of The Fairfield Bay Little Theater when it presented "Arsenic and Old Lace" in 1990 (I think). We presented it at two separate times because it is such a classic favorite. Some of those actors are still around the area even though a little grayer, a little heavier and perhaps a little slower in remembering lines. But, the memories are still as vivid as opening night at the Indian Hills Country Club "Blue Room." I was new to the Bay as Marketing Director of Indian Rock Village. The Little Theater was a great way to meet people on a social level.
My current boss, editor of the newspaper, Dan Feuer, who will be in the upcoming play and even though he doesn't practice his lines in the office, once in a while I hear him say a phrase that reminds me of the play. Then, I'll tell him about some of the people who played the roles in my day.
Put your thinking cap on and see if you can remember some of the characters. I played "Elaine Harper" the fiancee' of "Mortimer Brewster" The former newspaper editor, Ron Maxwell, who is now "right-hand-man" to Governor Beebe, starred in the role of Mortimer and in 1944 Cary Grant was the leading man. Today, Dan Feuer is "Mortimer Brewster."
The crazy but compassionate aunts were played by Corrine Weatherly (Aunt Abby) who lives in Clinton and owns Sew What Sewing Service and Marti Long Herren (Aunt Martha) who now lives at Indian Rock Village. Other cast members were Virgil Wilson, John Kautz, Bill Grusy, Al Franking, Bernie Neery, Jay Staggs, George McHugh, Evan Gradberg, Eddie Johnson and Russ Eckhoff. Remember any of those names? Russ Eckhoff is still around the Bay and so is Weldon Smith, who was in one of the productions as "Teddy." Wilba Thompson, of the new Conference Center, was co-director.
The current cast in Our Towne Productions has added rehearsal times to their schedule to be ready for opening night on Friday, June 20 at 7 p.m. at the Conference Center. Mark your calendar for a night of hilarity as you recognize your friends and neighbors. Or then again, maybe you won't recognize them. Jackie Rohrer plays "Aunt Martha;" Sharon Luxon is "Aunt Abby;" Bob Thompson is "Rev. Dr. Harper;" David McBee is "Teddy Brewster;" Ed Culp, "Officer Brophy;" Sharon Shafer, "Officer Klein;" Kim Feuer, "Elaine Harper;" Dan Feuer is "Mortimer Brewster;" Paul Wellenberger, "Mr. Gibbs;" Dr. Mark Davis, "Jonathan Brewster;" Thom Dillon is "Dr. Einstein;" Wade Lucas, "Officer O'Hara;" Robert Otis, "Lieutenant Rooney;" and Arlen McIrvin is "Mr. Witherspoon."
If you see them, give them a pat on the back or a thumbs up or say "break a leg" as a sign of encouragement. We're so fortunate to have people who will devote their time to memorizing lines, gathering props and costumes and rehearsing night after night so we can enjoy every minute of this old favorite.
Show dates at the Conference Center are June 20, 21, 22 at 7 p.m. with a 3 o'clock matinee on Saturday, June 21. The next week-end, the play will be presented on Thursday, June 27 and Friday, June 28 at 7 p.m. Tickets are $15 in advance at the Conference Center or, if available, at the door. You'll enjoy every minute of this old favorite.