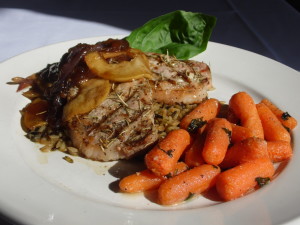 Rosemary Roasted Pork Loin with a Red Onion and Apple Comfit
Perfect roasted pork loin is juicy, it's moist and is full of flavor. That's exactly what you'll get with this easy pork loin recipe. Not only is the pork delicious, but it's also roasted and topped with sweet apples and onions. Savory, a touch of sweet and easy.
Ingredients:
•Pork loin
•Sprigs fresh rosemary. More or less to taste
•Olive oil
•Salt
•Pepper
•2 Red onions
•2 Granny smith or other tangy apples
•2 cups brown sugar
•1 cup butter or margarine
Preparation:
•Pork loin- Coat with oil and sprinkle with salt and pepper and set aside.
•Fresh rosemary- Remove leaves from stems and chop. Sprinkle on the pork. Let marinate for 4 hours to over night.
•Red onions- Peel and chop or slice depending on size desired.
•Apples- Stem and core apples. Chop into medium to small pieces depending on size desired
•Melt butter
Preheat oven to 300 degrees.
Place pork into oven for approximately 1 hour for one pound. When done should be firm to touch and when cut juices should run clear.
While pork is cooking:
– Melt butter and onions.
– Add brown sugar.
– Cook onion and sugar mixture on medium heat till onions are soft and translucent.
– Then add apples.
– Continue to cook until apples are soft. Remove from heat.
– When pork is done remove from oven and let rest for at least 15 minutes before slicing. Slice pork and top with onion and apple mixture.
Enjoy