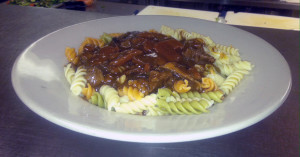 Beef Bourgignon
Beef Bourgignon is so much more than just another beef stew. This classic French dish, made so popular by Ms. Julia Child, is the kind of stew that can earn you a chef's reputation! The aroma alone — that deeply savory aroma of onions, slow-cooked beef, and red wine — is enough to keep you asking for seconds, or THIRDS?  Make Beef Bourgignon once, and you'll wonder why anyone ever bothered making anything else. Serves 10
Ingredients:
4 lbs. Boneless chuck roast
Salt & Pepper to taste
Oil as needed
4 oz. Bacon
8 oz. Mirepoix (onions, carrots, celery)
2 oz.  Flour
6 oz. Tomato Puree (fluid)
Braising pan
1 pint, Red wine marinade

8 oz. Red wine
6 oz. Olive oil
2 oz. Lemon Juice
3 Garlic Cloves Minced
1 tsp. Salt
1 tsp. Pepper
Preparation:
Trim and season the meat. Place in a pan and cover with marinade.  Marinate from 2 hours to over night turning occasionally.  Reserve marinade.
Cut up and fry bacon.
Add the mirepoix sautee until brown.
Add the flour to vegetable mixture in braising pan. Cook for 3 to 4 minutes.
Add the tomato puree and cook for about 2 minutes.
Add the meat to pan.
Add the marinade, stock, and demiglace to pan.
Bring liquid to a simmer.
Cover and braise till meat is fork tender.   About 2.5 hours.
Adjust all seasonings with salt and pepper.
Slice and serve meat with sauce.