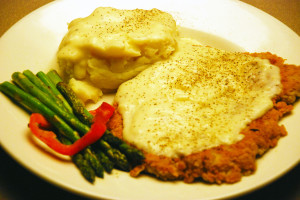 Chicken Fried Steak
Ingredients:
Ribeye loin 4 oz
Flour 2 cups
Eggwash 4 eggs, .5 cup milk
Cavendars greek seasoning to taste
Butter or vegetable oil 8 oz
Preparation:
Pound meat till thin.
While preparing meat heat butter or oil.
Dredge meat in flour. Then place in eggwash. Then dredge back in flour. For heavier breading dip in eggwash first then flour and repeat process.
Place breaded meat into skillet allowing meat to lay down towards the back of stove as to not splash yourself with hot butter.
Cook until bottom is browned.
Flip and repeat process.
Cook to desired doneness.
Serve with mashed potatoes and gravy of choice.
A truly Southern dish, chicken-fried steak is best served with cream gravy and some comforting down home 'sides'. Try our chicken-fried steak recipe tonight for a supper that will have them asking for more.
Recipe NEED.
Country Pepper Gravy
Flour
Butter or some kind of fat such as bacon grease.
Milk
Salt
Pepper
All ingredients are to taste
Add butter or grease to pan.
Add flour. This makes a roux. The portions should be 50% flour and 50% butter.
After your roux is completely blended together start adding milk. Blend together till roux is completely incorporated.
Heat till thickens. Stirring occasionally. If you don't continue to stir the roux settles out and will stick to pan then burn.
Add salt and pepper to taste.
Continuing to heat and stir till desired thickness is reached. If too thick add more milk if too thin add more roux.