Quiche Lorrain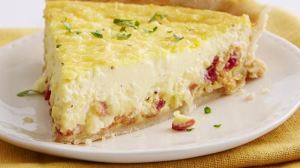 This quiche filling is like liquid satin–it's just so rich and creamy, not at all "eggy tasting." The original recipe used a dash of nutmeg instead of the cayenne pepper, feel free to give it try!
Ingredients:
Pastry
• 1 cup Gold Medal™ all-purpose flour
• 1/4 teaspoon salt
• 1/3 cup plus 1 tablespoon shortening
• 2 to 3 tablespoons cold water
Filling
• 8 slices bacon, crisply cooked, crumbled (1/2 cup)
• 1 cup shredded Swiss or Cheddar cheese (4 oz)
• 1/3 cup finely chopped onion
• 4 large eggs
• 2 cups whipping cream or half-and-half
• 1/4 teaspoon salt
• 1/4 teaspoon pepper
• 1/8 teaspoon ground red pepper (cayenne)
Preparation:
1. In medium bowl, mix flour and salt. Cut in shortening, using pastry blender (or pulling 2 table knives through ingredients in opposite directions), until particles are size of small peas. Sprinkle with cold water, 1 tablespoon at a time, tossing with fork until all flour is moistened and pastry almost cleans side of bowl (1 to 2 teaspoons more water can be added if necessary).
2. Gather pastry into a ball. Shape into flattened round on lightly floured surface. Wrap in plastic wrap; refrigerate about 45 minutes or until dough is firm and cold, yet pliable. This allows the shortening to become slightly firm, which helps make the baked pastry more flaky. If refrigerated longer, let pastry soften slightly before rolling.
3. Heat oven to 425°F. With floured rolling pin, roll pastry into round 2 inches larger than upside-down 9-inch quiche dish or glass pie plate. Fold pastry into fourths; place in quiche dish. Unfold and ease into dish, pressing firmly against bottom and side. Trim overhanging edge of pastry 1 inch from rim of pie plate. Fold and roll pastry under, even with plate; flute as desired.
4. Carefully line pastry with a double thickness of foil, gently pressing foil to bottom and side of pastry. Let foil extend over edge to prevent excessive browning. Bake 10 minutes. Carefully remove foil and bake 2 to 4 minutes longer or until pastry just begins to brown and has become set. If crust bubbles, gently push bubbles down with back of spoon.
5. Reduce oven temperature to 325°F. Sprinkle bacon, cheese and onion in pie crust. In medium bowl, beat eggs slightly; beat in remaining filling ingredients. Pour into quiche dish.
6. Bake 45 to 50 minutes or until knife inserted in center comes out clean. Let stand 10 minutes before serving.
ENJOY.