Easy Vegetable Beef Soup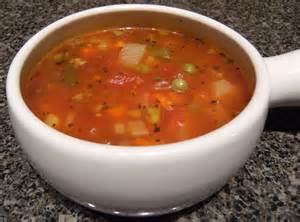 This hearty Beef Vegetable Beef Soup is the ultimate comfort food to help keep you warm on a chilly winter night. This recipe is simple and quick to make so you'll be back out on the golf course while this healthy meal is cooking away. Come back in and it's ready to eat!
Ingredients:
• 1 lb ground beef (you can use the least expensive, toughest kind)
• 14 1/2 ounces beef broth
• 16 ounces frozen vegetables (I used a corn, bean, carrot blend)
• 14 1/2 ounces diced tomatoes
• 10 3/4 ounces condensed tomato soup
• 1 tablespoon minced onion
• 1 teaspoon Italian seasoning
• 1/4 teaspoon garlic powder
• 1 1/4 cups water
Preparation:
1. In skillet, brown beef and drain off fat. Place beef in 3-4 quart crockpot.
2. Add remaining ingredients.
3. Cover and cook on low for 7-8 hours or high for 3 1/2 to 4 hours.
ENJOY.