Fried Chicken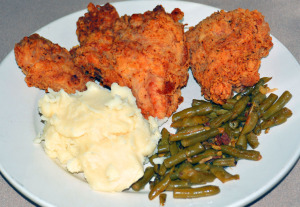 Fried Chicken is an American tradition! Just saying those words bring back memories of family gatherings and stories around the table. Moist and Crispy, and ready for you to bring out that skillet and give it a go!
Ingredients:
8 Cut Chicken (bone in chicken)
Flour
Montreal chicken seasoning
Oil, enough to cover chicken at least half way – preferably to cover chicken completely
Salt, 2 cups per gallon water
Water enough to cover chicken
Preparation:
– First, Brine the Chicken: Dissolve the salt in the water then add the chicken. Let stand for at least 4 hours.
– When ready to cook the chicken: Heat oil to 350 degrees. Can be done in a larger skillet a small fry daddy or other deep frying device is preferred.
Mix the seasoning with the flour. More or less to taste.
– Dredge the chicken: The way I flour the chicken is to dredge the chicken once. Then let it sit and let the flour on the chicken become sticky. At that point I dredge it in the flour again and place it into the oil. Cook the chicken till done. Will take roughly 20 minutes. If using a food thermometer it should read 165 degrees.
ENJOY.