Monte Cristo Sandwich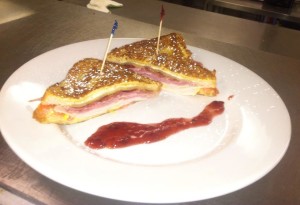 Rumored to have first been served in Los Angeles in the 1950s, the Monte Cristo sandwich is still a staple on the lunch menu at Disneyland's Blue Bayou restaurant. There are many ways to make this sandwich, including deep-frying it, but here we've presented a basic method for pan-frying that's much simpler and really YUMMY.
Ingredients:
• 2 Slices white bread
• Gruyere Cheese
• Ham
• Dijon Mustard
• Butter
• Eggs
• Powdered Sugar
Preparation:
On one side of bread, place a slice of gruyere cheese and ham. Spread lightly with mustard. Place another slice of ham, spread a bit more mustard and close with the second slice of bread. Butter each side of the sandwich. Dip the sandwich into a beaten egg mixture and grill both sides until golden brown. Slice sandwich in half and sprinkle with powdered sugar.
Enjoy.