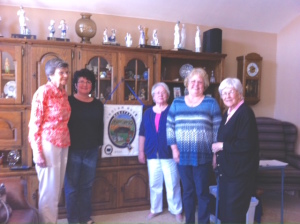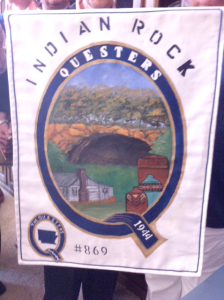 It's been a very busy month for the Indian Rock Questers. We all worked very hard to support the Pancake Dinner and Silent Auction to benefit the Log Cabin Museum. Our Indian Rock Banner was presented at the meeting. Toni Kaiser and her banner committee did a great job in coming up with ideas.
Co-Host for the meeting was Mary-Su Forsman, who served fruit, cheese, nuts and chocolate! One of our newest members, Nancy Tripp, presented an excellent program on Oil and Vinegar Casters. What a great collection and educational presentation!!
Our purpose is to appreciate antiques, to educate through research and study and to support the preservation and restoration of historical landmarks. Our motto is, "It's fun to search and a joy to find."
Our next meeting will be the Joint Luncheon with Davis Special Chapter, April 27, 2015 at "Little Red" at the Indian Hills Complex. Program will be Historic Firefighting Items by Mary-Su and Doug Forsman. If you would like to come to a Questers meeting, please call Nancy Mueller at 884-6339 for more information.