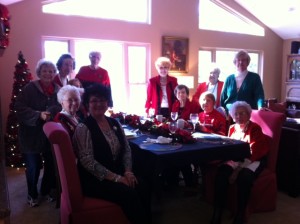 Indian Rock Questers met at Nancy Mueller's home on December 16, 2013 for their Christmas luncheon. Darla Waring presented the program "Odds & Ends." We all went back in time; medal roller skates; strainers; meat grinders, glass furniture coasters, etc. The program was enjoyed by all.
The Questers is an international study organiztion, which was founded in 1944 by Jessie Elizabeth Bardens. Its major objectives are to stimulate an appreciation of antiques and their collections; and to encourage the preservation and resotration of existing historical landmarks.
The Historic Arkansas Museum is seeking to locate and document Arkansas Made decorative, mechanical and fine art produced by Arkansas artists and artisans for the period 1700 through 1950 (works of art, photography, furniture, handmade silver, firearms, quilts, pottery). They encourage all Arkansans who may have an original family heirloom, created in Arkansas, to contact the research office at 501-324-9376.
Please visit our website at www.arkansasquesters.com. Information is available on the website on who to contact if you want to join our group. If you have any questions, please call Nancy Mueller at 884-6339.