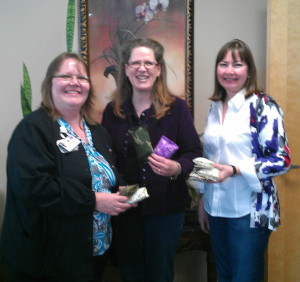 Thirty enthusiastic quilters came together for Piecemakers Monthly Quilt Club meeting on Wednesday, May 15. Linda LaDoux welcomed members and guests, Victoria Banks conducted the business meeting and Doris Brown gave the treasurers report. Eloise Brown invited participants to show their mystery blocks for May and Janet Kuykendall won the prize drawing. Eloise showed what June's blocks will look like and explained a difficulty she had with the pattern instructions for one of the blocks. Ida Holt brought up the fact that the white elephant table is getting sparse—if you have unwanted items please donate them. Ida also updated us on needs of recent tornado victims.
Ramona Johnson gave an update on the upcoming Fall Retreat, which will be held at Mount Eagle, September 30 through October 3. Sign-up will begin at our July meeting. A bus trip is planned to go to the Hot Springs Quilt show Friday, July 12.
Rene Riggan gave information regarding upcoming Quilting Events: River Valley Quilt Guild in Russellville will put on Quilt Congress, September 27 & 28. Quilt Arkansas 2013 -Starry, Starry Night held at the C. A. Vines 4-H Center in Ferndale, AR., September 5 through the 7. Autumn in the Ozarks Quilt Show October 24 through 26 presented by Hill N Hollow Quilt Guild in Mountain Home at the Baxter County Fairgrounds educational building. More info at their website; hillnhollowquilters.com. Super Quilt Seminar with Ricky Timms, April 3-5, 2014. More information will be forthcoming.
Debi Morton reminded us that our October meeting will be an auction so start putting aside items for the auction. Piecemakers turns 10 in July and we will be having a birthday party as part of the July meeting.
Our Community Project, making Port Pads for the Clinton Hospital, is ongoing. We have donated over 100 port pads so far. Please continue to make more pads at home and bring them to the meeting each month.
Sew and Tell was a delightful display of a variety of quilted items. These included: flannel quilt with satin backing; X's and O's quilt; storybook quilt with matching baby quilt; t-shirt quilt; "fun and done" quilt; woven blossoms quilt; handbag; quilt made from Bali pops and matching charm squares; small table runner; log cabin quilt; clutch; table cloth; fish bargello quilt; placemats; crazy nine-patch quilt; thread catchers, foldy-stuff pincushions, zippered bag; bags; hand-quilted snowball quilt; baby quilt; 1600-inch quilt; bed runners; completed quilt from last years HST challenge.
The program on bindings was presented by Debi Morton, Judi Tallberg and Linda LaDoux. A number of binding methods was presented and demonstrated, including methods not recommended for using on quilts, especially quilts that will be judged in shows. There was a discussion of whether binding must be finished by hand or can be machine sewn—opinions differ. A special thanks to these ladies for sharing their expertise. Piecemaker's next meeting will be held on June 19 at the Methodist Church in Clinton at 10 am. Anyone interested in quilting is welcome to attend.