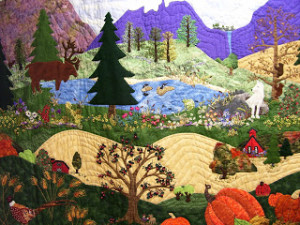 An excited group of quilters came together for Piecemakers monthly Quilt Club meeting on Wednesday, October 16. Linda LaDoux welcomed members and guest. Doris Brown was out of town so Victoria Banks gave the treasurer's report; and conducted a short business meeting. Eloise Brown presented the Mystery block of the month. She showed us the blocks we'll be making for November. Ten participants showed their October blocks and Mary Phillips won the prize drawing. In November, the December block pattern will be sent out along with assembly instructions for the quilt. Rene Riggan collected and redistributed the "Orphan" blocks for our December Challenge. The Challenge is to take someone's "Orphan" block and make something out of it to be given back to the original owner at the Christmas party.
There was no "Sew and Tell" this month because we needed as much time as possible for the auction. Debi Morton and Judi Talberg were in charge of the auction. Ramona Johnson acted as the auctioneer and many others helped with presenting the items, keeping track of winning bids and getting the items to the winners. There were so many sewing and quilting items there to be auctioned off from notions to sewing machines, from patterns to quilt tops, from kits to UFOs, and fabric and more fabric from scraps to fat quarters to yardage. Thanks to everyone who worked so hard to make the auction a great success.
Piecemakers next meeting will be held on November 20 at the Methodist Church in Clinton at 10 a.m. Anyone interested in quilting is welcome to attend.