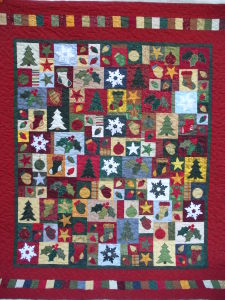 A group of 39 animated quilters was in attendance at Piecemakers monthly quilt club meeting on Wednesday, November 19, 2014. Linda LaDoux welcomed members and guests. Then, the Quilt of Valor Presentation was made. Ramona Johnson gave a brief synopsis of the Quilts of Valor project. Quilts of Valor began with a mother's desire to see that returning warriors are welcomed home with the love and gratitude they deserve. Quilts of Valor are stitched with "love, prayers and healing thoughts" and are awarded as a tangible token of appreciation that says, "Thank you for your service, sacrifice and valor." Since 2003, it has become a national grassroots community service effort; and there have been over 108,000 quilts awarded to service members and veterans. This is Piecemakers first Quilt of Valor presentation and it was awarded to Robert Dupasquier. Following the presentation, Eloise Brown issued a challenge to all club members. Between now and our meeting in January, every time you see a veteran, go up to him/her, shake his/her hand, and say, "Thank You". Keep count of how many times you do this, and Eloise will have a prize for the person with the most hands shaken. Several more QOV blocks were turned in. Members are encouraged to continue to contribute blocks (12 ½ inch unfinished star block in Red, White & Blue).
Linda LaDoux called on participants to show their final block for the 2014 Block of the Month. Twelve members brought in their finished blocks. Virginia Reynolds and Brenda Dunlap won the prize drawing for this month. Next month, participants are asked to bring in the completed quilt top. Robbie Odell reminded us about the Christmas party next month. Everyone is asked to bring a dish to share. The meat, iced tea and coffee will be provided. Remember one hour later than our usual meeting time; it will start at 11 am, December 17th. We will have a very short business meeting, and announce officers for 2015.
The ladies of Piecemakers have been busy. We had an amazing Sew 'n' Tell this month. Items included: microwave bowl holder; 2 log cabin baby quilts, sewn by hand; a kittens baby quilt; a Hopscotch floor quilt; a Twister quilt; a Wedding Ring quilt; tote; Yo-Yo quilt with 4300 yoyos; black and white quilt top from a block of the month; a purple and green graduation plaid quilt; a layer cake quilt in fall colors; another microwave bowl cozy; and ocean/tropical fish baby quilt, a rag quilt; an baby quilt with animals; a king-sized scrappy star quilt; a thread catcher bag; zipit bag; pencil monster bag; see-through bag; purse with matching make-up bag; reversible mantel scarf; cardinal table topper; a black and white quilt top of Piecemakers 2014 BOM; an Alabama bow tucks bag with matching note holder and bag; Sisters Choice quilt; a batik Double Slice Layer Cake quilt; King-sized purple Evening Star quilt; Mystery quilt in blues; Ducky quilt with train back; Monkey quilt; Pink quilt with lady bugs; quilt from a Nancy Mahoney class; finished quilt top form a block of the month class. November Sit and Sew was led by Linda Bryan from Mt. View. They made a handy sewing bucket. Thank you Linda for coming to teach this great project!
Piecemakers next meeting will be the Christmas Party on Wednesday, December 17, 2014, at 11 a.m. (one hour later than our regular meeting time) at the Methodist Church in Clinton.