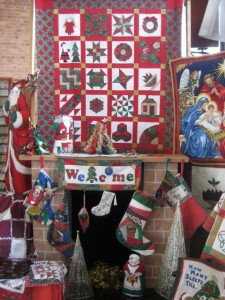 Over 30 members were in attendance at the Piecemakers monthly Quilt Club meeting on Wednesday, November 20. Linda LaDoux welcomed members and three guests; Doris Brown gave the treasurers report; and Victoria Banks conducted the business meeting.
Eloise Brown presented the final block and assembly instructions for the Mystery block of the month and showed us the completed quilt top. Participants showed their November blocks and Pam Davis won the prize drawing.
Debi Morton gave a report on the Auction held at the October meeting.
Debi and Victoria gave a report on the Quilt Show held last week. It was a successful show and our own Eloise won two blue ribbons. Everyone is encouraged to start working now toward next years show and plan to enter some quilts.
December's meeting will be our Christmas Party. Robbie Odell is coordinating the Party and Ida Holt is doing the decorations. The club is furnishing meat and everyone is asked to bring their favorite recipe as an accompaniment. Rene Riggan reminded us about the December Challenge. The Challenge is to take someone's "Orphan" block and make something out of it; it will then be given back to the original owner. Remember to bring your completed item to the party.
There was no "Sew and Tell" in October due to the auction; so we had a great showing of items. We saw: a Galaxy Quilt (made with Deb Tucker V-block ruler); an old case refurbished inside to hold quilting tools; a sweet retreat bag; table toppers; duffle bags; a "Call me Betsy" scrap quilt; tote bag; pumpkin runner; snowman runner; wool Santa topper; many small duffle bags (thanks for the class, Eloise); two "Baby Genius' baby quilts; a train baby quilt; a "sock-topus"; tote bag; an "I Spy" quilt; 1600-inch quilt; silly goose quilt; tote bag and coin purse; sewing tote; a musical runner; pillow cases; "the purse"—baby sister bag; Razorback pillow; and more bags. Be sure to bring "Sew and Tell" items next month before you give them away as Christmas gifts.
Jan Savu and Rene Riggan presented the program. Rene gave a list of "Quilters' Must Haves" and had many sewing and quilting tools to show. Jan talked about "Things to Bring to Class" with stories and examples of what not to do. They showed ways to be organized with all of our sewing tools and discussed quilt class and quilt shop etiquette. It was very informative and entertaining. Thank you Rene and Jan!
Piecemakers next meeting will be the yearly Christmas Party on December 18 at 11 a.m.