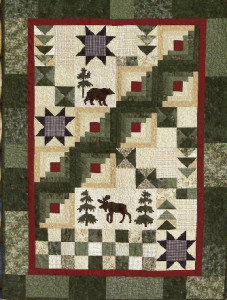 Piecemakers Quilt Club held their monthly meeting on Wednesday, June 19. Club members and five guests were warmly welcomed by Linda LaDoux; Doris Brown gave the treasurers report; and Victoria Banks conducted the business meeting.
Eloise Brown invited participants to show their mystery blocks for June. Barbara Spears was the winner of the prize drawing. July only has one block so this is a good time to catch up if you are behind. Ida Holt encouraged members to clean out their sewing stuff and put aside items for either the white elephant table or the auction coming up in October. Ramona Johnson and Jan Savu reminded us of the upcoming Fall Retreat, which will be held at Mount Eagle September 30 through October 3. Sign-up will begin at our July meeting. The bus trip to the Hot Springs Quilt Fest will be Friday July 12th. Kay Otis will be presenting our Sit and Sew in July. We will be making microwave Soup Bowl Potholders. Happy Birthday to Piecemakers Quilt Club!
Piecemakers turns 10 years old in July and we will be having a birthday party. Community Project making Port Pads for the Clinton Hospital is ongoing. Karen Lee from the hospital expressed their appreciation for what we have done. We have donated over 100 port pads so far. Please continue to make more pads at home and bring them to the meeting each month. Velcro and stuffing is available free to take home from our meetings.
Sew and Tell began with a display of seven completed 1600-inch quilts from March's Sit and Sew class. They were followed by a lovely display of quilted items including: a flannel and wool appliquéd quilt; another 1600-inch quilt; Bow-tucks purse with matching cosmetic bag; a pin cushion on a jar; a travel bag; another bag; a flannel boondoggle quilt; a jelly roll quilt; two hunters star runners; some men's dop bags; a baby quilt; black and pink floral quilt; a quilt made from Bali pops and matching charm squares; table runners; an embroidered table runner; and more runners. Rene Riggan presented a program on Four-Patch Posies. She showed how to find the repeat of the fabric then stack four layers of repeats before cutting the blocks. She had some quilts displayed to show what the Four-Patch Posies look like then showed several more examples. After the program, Rene gave each person a stack of four squares and issued a challenge for July. Each person is to make a Four-Patch Posey and use it as the center of a 12-inch block. (12-½ inch unfinished). These blocks will be used to make a quilt to donate to the Clinton Library as a fundraiser.
Piecemakers next meeting will be held on July 17 at the Methodist Church in Clinton at 10 a.m. Anyone interested in quilting is welcome to attend.