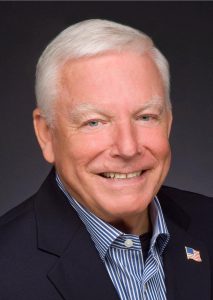 Former three-term Constable, Ingram Philips, recently announced for reelection against incumbent, Scott Handford, in Indian Rock Township (Fairfield Bay).
Serving as Township Constable from 2008-2014, Philips is a patrolman with the Fairfield Bay Police Department. He is CEO of "City Watch Safety and Security" that has provided 911 road signs and a free "neighborhood watch" brochure in its 3rd edition. It is currently being redistributed to residences and businesses in the community.
"Public service seems to be in my blood," states Ingram. "My dad was a WWII coastguardsman and uncles were U.S. Navy and Army Air Corps. I served in the Army for 30 years. Sworn law enforcement officers and our fire, communicators and emergency medical personnel share a kinship in helping others in times of need. Reelection as Constable would be a cherished honor to me."
An Arkansas Constable is a Constitutional officer. He/she is elected from townships based on population for two-year periods. Fairfield Bay is of the size that the township boundaries are almost the same as the city limits. Constables, in order to serve as law enforcement officers must receive State-accredited training, be certified by the Arkansas Commission, maintain annual continuing education and fire arms qualification, wear a standard uniform and provide a marked vehicle, weapons and equipment. They do not receive pay or benefits however some counties provide a stipend. In Van Buren County, no constable is paid. The county has positions for 14 constables; most, unfilled. Constables can be police officers, deputies and auxiliaries at the same time. Philips is a policeman; Handford, a deputy. Both are certified by the State.
"I ran in 2008 on certain principles that I run on today," Ingram said. "To be highly visible, very active in civic events, placing residential and business security and safety as Job 1. I seek to be equally responsive to residents and guests without regard to political party or any other social mark. I will continue to learn and apply myself diligently to the laws of the State. I love living in here, contributing to the community's well-being."
In addition to serving with the FFB Police, he is Data Administrator for the Bay Fire Department and assists the city's Emergency Management coordinator. He is a crime prevention specialist certified by Texas and trained as an Arkansas court security officer. Ingram and his wife, Mary, founded the cancer charity, "Care Cap Connections," in 2006, a volunteer association that has made and given away over 74,000 garments to women and girls undergoing chemotherapy. The Philips' are members of the Presbyterian Kirk of the Hills where they sing with the choir.
Initially serving the army as an armor officer, he retired as a Chaplain Corps colonel in 1997. After combat in Iraq, Ingram was awarded the Bronze Star and Legion of Merit. He holds a doctoral degree from Drew University in New Jersey. For several years, Philips was Sergeant-at-Arms for the Republican Party of Arkansas.