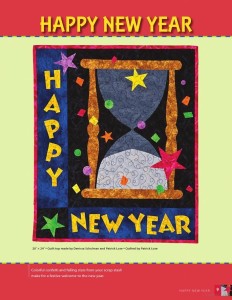 The room was filled with happy chatter as the festively dressed ladies of Piecemakers Quilt Club joined together for their annual Christmas Party on Wednesday, December 16, 2015. The room was decorated in lovely reds and whites thanks to Lori Griffin and Gracie Campbell. A fantastic luncheon was laid out. Robbie Odell and Mary Myers cooked the meat and everyone contributed a side dish or dessert. There were 32 members and guests in attendance. Everyone received a gift from the club and one from Eloise. Following the delicious meal, we had our business meeting. Eloise was given a "Thank You" gift from the club for serving as president for this past year. Pamela Davis gave the treasurer's report and reminded everyone that dues for 2016 are due.
Ida Holt reminded us that our Spring Retreat is scheduled for April 4 – 7, 2016. Linda LaDoux presented our Block of the Month and asked participants to show their last two blocks. Everyone who brought their blocks was gifted with a holiday fat quarter.
Doris Brown will be presenting our program for January. It is a small, paper pieced project. Eloise Brown will be presenting our Block of the Month for 2016. Instead of doing quilt blocks each month, we will have a Mug Rug of the month. Pamela Davis is going to provide our Challenges for 2016. The first Challenge is a UFO Challenge which will be ongoing throughout the whole year. Bernardine Walter is coordinating a pizza box 9-patch block exchange.
Sew 'n' Tell is always the highlight of our meetings to share our accomplishments with others who appreciate the work and skill involved. This month we saw: a fabric basket; a table runner; a Sticks and Stones quilt; a Weaver Fever 3-fabric quilt; a Monet Double Wedding Ring quilt; a Bonnie Hunter Roll, Roll Cotton Boll Quilt; a Deb Tucker Hunters Star quilt; A tea towel with Yoyos, ornaments; another table runner; a gifted quilt top with embroidered stars; a T-Shirt quilt; a paper-pieced Pineapple quilt; a Red, White and Black quilt; a Christmas Tree table topper; a fat quarter bag.
To conclude the meeting, Eloise "passed the gavel" to Susan Moore, our incoming president. Piecemakers next meeting will be on Wednesday, January 20, 2016 at 10 a.m. at the Methodist Church in Clinton; anyone interested in quilts or quilting is welcome to attend.