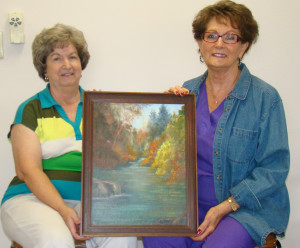 Local Artist, Doris Sexson, is delighted to donate one of her beautiful Oil paintings, titled "Fall Creek," to be used in the fundraising efforts of the Shirley School Foundation in their Fall Fundraising Direct Mail Campaign.
The painting will be awarded to a donor by random drawing in early December. Each year, the annual fundraiser is held to award Shirley School Teachers Grants to help cover costs to fund some programs that would otherwise not be offered, as no other type of school funds are available (especially in the economic crunch of our times).
If you have never donated in the past, but would like to do so, please call Margaret Earnhart at 723-4748 or 253-2115 or you may mail your donation to SPSF, P.O. Box 113, Shirley, AR 72153.