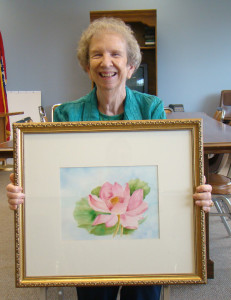 Lea Berry donates a nicely framed, beautiful, water color painting to be added to the quilt, table runner, napkins and tote bag that will be a part of the drawing at the Presbyterian Kirk of the Hills Holiday Bazaar. The annual event will be on November 2 from 9 a.m. until 2 p.m. in the Fellowship Hall. Tickets for the drawing are $1 each or 6 for $5.
There will be breads, cakes and pies, jams, jelly, canned goods, salsa sauce, pickles, tea, soup and cookie mixes, crafts, jewelry, quilted items, Christmas stockings and cell phone bags. Everything hand-made by the women of the church.
The Kirk Men's Club will have a lunch available of their famous hot dogs with all the trimmings. Remember to bring your dull knife blades to have them sharpened while you shop. Presbyterian Kirk of the Hills, is located at 250 Dave Creek Parkway in Fairfield Bay.