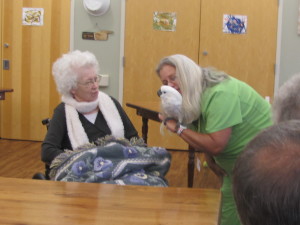 New Activities Director
Debra Lance is the new activity coordinator for Ozark Health Nursing and Rehab Center and to get to know the residents better; she brought her "baby" for them to enjoy. Sweetie Bird was a big hit with all and Debra will be bringing him monthly to entertain them. Betty Whitt, pictured above, was one of the residents that really enjoyed Sweetie.
Debra is on the lookout for new ways to help the residents to increase their quality of life and is in need of volunteers that would love to come and help out with entertainment, visits, etc. If interested, please contact Debra Lance at 501-745-9547.