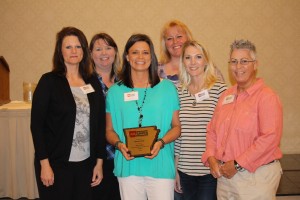 (L to R): Carla Roberts, RN; Edna Prosser, RN; Brooke Keith, RN; Carla Slayton, RN; Michelle Reeves, RN; and Kim Hall, RN, all of Ozark Health Medical Center, showed their support for Brooke Keith at the 2014 ARSaves Educational Conference where she was awarded 'Facilitator of the Year.'
Arkansas is striving, thru the utilization of telemedicine, to improve stroke care throughout state thru a program known as ARSaves based at the University of Arkansas for Medical Sciences. Ozark Health Medical Center partnered with Arkansas SAVES (Stroke Assistance Thru Virtual Emergency Support) as one of the first sites to take part in this program.
This specialized program uses telemedicine as a tool so neurologists from Stroke Center Hubs around the state can be virtually present in the treatment room of smaller health care facilities in rural areas of the state, referred to as 'Spoke Sites.'
Brooke Keith, RN of Ozark Health Medical Center works countless hours to provide education to the community, schools, and businesses on stroke recognition and prevention and the ARSaves program. For her dedication to not only providing outreach education to the community but also to emergency and hospital staff, Brooke was recently recognized by ARSAVES at their annual educational conference on April 24 as Facilitator of the Year. Ozark Health Medical Center is proud to have such a dedicated nurse at our facility.
For more information concerning stroke signs and symptoms as well as risk factors, visit www.myozarkhealth.com under 'Emergency Room.'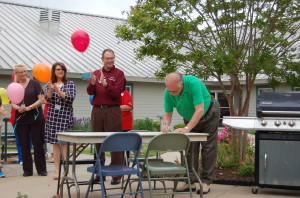 The rain held off just long enough on Monday, May 12 for Van Buren County Judge Roger Hooper to read the following proclamation:
Whereas, National Hospital Week and National Nursing Home week is May 11-17, 2014; and
Whereas, people across the country will be celebrating this event; and
Whereas, the healthcare professionals that work in our hospitals and nursing homes deserve recognition for keeping our community healthy;
Therefore I, Roger Hooper as Judge of Van Buren County, declare the week of May 11-17, 2014 to be Hospital and Nursing Home Week in Van Buren County, and urge people to visit patients and residents receiving care in local healthcare facilities and to express their appreciation for the caring people that make quality healthcare possible in our community.
Ozark Health staff and Nursing and Rehab residents gathered in the courtyard of Ozark Health Medical Center at 10 am to witness the signing of the proclamation by Judge Hooper and to release balloons, officially kicking off National Hospital and Nursing Home Week, now officially Van Buren County Hospital and Nursing Week. Hospital and Nursing Home Week is a week set aside each year to recognize the men and women who devote so much to the individual care of their friends and neighbors in their respective communities.
At Ozark Health, and at similar health care facilities, the week is celebrated each year through various games, contests, initiatives, and capped off with a cookout at the end of the week. Ozark Health did something a little different this year in that they invited the public to join in the celebration by hosting an open house event on Thursday, May 15. Visitors to Ozark Health received tours, learned about services, and were treated with free popcorn and drinks. Ozark Health welcomes visitors any time and encourages everyone to come tour their facilities.