Each year the Ozark Health Foundation hosts an Investor Banquet to thank our major investors and present scholarships to a senior member of our T.H.U.G and S.W.A.T. Team recipients. This year's Banquet honored two outstanding groups that have done so much for Ozark Health and the Community. Our 2016 Business Investor of the Year was Cheryl Ragland and her team at First Security Bank. First Security Bank is proud to be only in Arkansas and always puts the needs of it's customers and Arkansans first.
Our 2016 Investor of the Year was Ms. Rhonda Davis. Ms. Davis has been a part of the Ozark Health Foundation since the beginning and was instrumental in starting our largest fundraising event, the Festival of Hope & Lights Gala.
Along with our honorees, the 2016 Major Investors were also recognized. These generous investors include: 360 Degree Medicine, Alan & Kristi King, Carla Roberts, Daphne Brown, Darrell & Lanita Moore, Debbie Whillock, Eric & Glenda Stagg, Fairfield Bay Community Club, Faye's Diamond Mine, First Security Bank, First Service Bank, Fred & Willena Herman, George & Vonda Crocker, Dr. Hank & Sarah Wallace, Dr. Jamie & Carol Beavers, Jim & Doris Hillhouse, Joel & Rebecca Rowe, Dr. & Mrs. Kamal Patel, Dr. Keith & Tammy Coward, Mr. & Mrs. Kent Tester, Network Data Services, Inc, Ozark Health Auxiliary, Petit Jean Electric, Raye Jean Linn, Rhonda Davis, Simmons Bank, Southeast Imaging, LCC, Dr. Steve & Georgianne Schoettle, and Tracey & Edna Prosser.
With the help of these major investors, and through all of our events, memorials, and private donations, the Foundation was able to raise over $101,000 during the past fiscal year. Every dollar raised by the Foundation is used to further our mission of improving healthcare in Van Buren and Searcy County. To date the Foundation has provided over $765,000 in Scholarships and Equipment to benefit our community.
Also in attendance for the evening were the T.H.U.G. (Teens Having United Goals) and S.W.A.T. (Students Working All Together) Team scholarship recipients. These students were chosen based on their dedication to their organization, willingness to volunteer both in their school and the community, and commitment to attend an institute of higher education. Each scholarship recipient receives a $500 stipend. The T.H.U.G. scholarship recipients were Grant McMurray, Clinton High School; Mary Considine, Shirley High School and Sara Maulden, Southside Bee Branch. The S.W.A.T. Team scholarship recipients were Lauren Loggins, Marshall High School and Austin Grinder, St. Joe High School.
For more information about the Ozark Health Foundation, call Tawny at (501) 745-9303.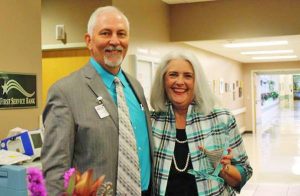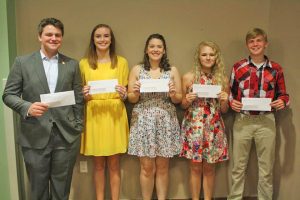 Also honored at the Investor Banquet was Rhonda Davis with Darrell Moore (right), and (above), THUGs and SWAT Team members from left: Grant McMurray, Sara Maulden, Mary Considine, Lauren Loggins, and Austin Grinder.