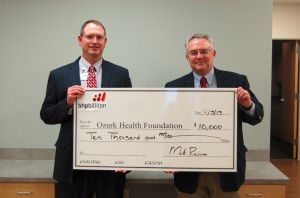 Representatives from the Ozark Health Foundation have received a $10,000 donation from BHP Billiton Petroleum to provide nursing scholarships. The contribution allows for two recipients per year to receive $1,000 scholarships.
"Thanks to companies such as BHP Billiton, we have given nearly $300,000 in scholarships," said Darrell Moore, chief operations officer. "The result will better enable hospitals to prepare and respond to the needs of our community."
Scholarship recipients will be identified through an application process and selected by the Ozark Health Foundation.
"Local hospitals, such as Ozark Health, bear a great amount of responsibility for the health of the communities they serve. We are pleased to offer financial resources to assist them in providing quality health care services to residents of Van Buren County," said Danny Games, external affairs manager at BHP Billiton.
About the Ozark Health Foundation… The Ozark Health Foundation is a 501(c)(3) organization that is dedicated to improving healthcare in Van Buren and Searcy County.  We are the fundraising branch of Ozark Health, Inc, and since the Foundation began in 2003, we have raised over $1,000,000 for scholarships and medical equipment.  Because of our involvement with Ozark Health, Inc, the Foundation does not have to spend any money annually on administrative fees so 100% of our investments go to fulfill our mission.